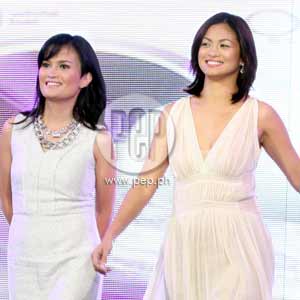 IMAGE 0
---
Massages have grassroots beginnings—hilot, as our elders call the body-rubbing with oils to relieve aches and pains, from fever to sprains. In rural areas, people take a dip in healing springs and rivers and even drink the "holy" water.
Now, up the social ladder, spa and massage centers are the in thing. Going to the spa has become part people's to-do list after a long and tiring day.
Miriam Quiambao and Daphne Oseña-Paez shared their views on spa and massages in separate interviews at the Olay Body Swap Event last November 8, at SM North Sky Big Dome.
PRO SPA. As a former beauty queen who eventually entered show business, Miriam takes the time she devotes to spas as her me-time.
"It's time for myself. It's time to relax," she said.
Miriam reveals that she prefers having her spa session in the comfort of her home.
She completes her spa experience by listening to soft, relaxing music and setting the mood with lighted candles.
Miriam adds that going to a spa, specifically for a body scrub has its benefits. "And it helps also, kunwari, when I go to the spa for a body scrub. It sloughs off dead skin.
"With massage, it helps you relax after a long and taxing day," the 35-year-old former beauty queen smiled.
CONTRA SPA. In contrast, TV lifestyle show host Daphne Oseña-Paez is no fan of spas and massages.
"Because I think that there's no worst thing than having a bad massage!" Daphne exclaimed. "I've had too many bad massages. So parang nalulugi ako pag hindi maganda yung massage."
ADVERTISEMENT - CONTINUE READING BELOW
Daphne finds pleasure in a completely different activity—blogging.
"It was just four years ago. And it was just my outlet and only my friends were reading it. And then it got bigger and bigger and then now it becomes something else and then I realize it is really a different medium," Daphne related.
Check out her blogsite daphneosena.livejournal.com.
"My blog has a tag, 'where airtime is free,' because as a producer of Urban Zone, we buy our airtime, so every minute counts in TV," the 40-year-old talented host said.
Daphne related that her blog started out as her medium to share the stories behind the scenes and stories that couldn't be accommodated by her show's airtime.
With its growing readership, people from public-relations firms started sending her sponsorship packages.
However, Daphne emphasized, "I really wanna just tell stories and I don't want to make it into a business."
She adds that blogging keeps her creative as well as polishes her skills in photography.
"It's amazing. We are on the verge of something bigger. Media is changing. Everybody is publishing. Everybody is telling stories.
"And I'm glad that I had a headstart as one of the most recognized blogs," Daphne said.