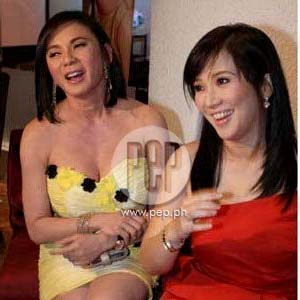 IMAGE 0
---
Kris Aquino was launched as the returning endorser of the Belo Medical Group last Wednesday, September 29, at the Red restaurant of the Shangri-La Hotel in Makati City.
"It has been three years since we broke up...," Dra. Vicki Belo said at the launching and press conference that night.
The celebrity cosmetic doctor was referring to the time when a controversy spread allegedly involving Kris Aquino's now-estranged husband James Yap and a young, female employee at one of her clinics. The controversy led to Kris's resignation as a Belo endorser in 2007. (CLICK here to read related story).
ROAD TO RECONCILIATION. The doctor recalled that Kris invited her for dinner at her One Roxas residence last August 6, together with Dra. Vicki's daughter and Belo clinic executive Cristalle Henares; Jojie Dingcong, consultant for branding and imaging of the Belo Medical Group; ABS-CBN Business Unit head and Kris's manager Deo Endrinal; Kris's friend and PNoycouturier JC Buendia, and a few other friends.
The dinner took place after Kris came back from her Disney cruise with her sons Joshua and Bimby. "She invited me to dinner at her house," the doctor related, "and I was hesistant—from the elevator to her apartment. When she opened the door, she hugged me. Parang kinakabahan pa ako but when she opened, 'Doktora!' Parang wala lang."
For her part, Kris said that she decided to sign up again with the Belo Medical Group because of the recent developments in her life.
"Honestly, nung nagne-negotiate kasi si Jojie with Boy, I knew that my marriage was ending. So, I knew that I could do it, na wala akong iniilagan, wala akong nahihirapan pag-usapan. I was able to sign with her again, because I knew what was behind me."
ADVERTISEMENT - CONTINUE READING BELOW
"It's really nice to have her back!" Dra. Vicki enthused.
To which Kris replied in her trademark quasi-singsong speech, "I'm back with the best!"
THE CHANGES. After that falling-out in 2007—and both have had their own controversies since then—what has changed now that they've renewed ties?
Kris replied, "Doktora told me before, 'When you live with the truth, and you live by the truth, you'll look your best.' Kasi, sinabi niya sa akin, for the longest time may heaviness daw sa mata ko."
Dra. Vicki blurted out, "Yeah, look at her now, she is glowing!"
Kris retorted, laughing, "You think I'm blunt? She is even worse!"
On a serious note, Dra. Vicki said that she now sees a more mature Kris. "She's a better version of Kris. Before, when I had problems, parang her life is almost perfect. Parang she can't relate.
"Pero now that she's gone through something, what I have also gone through—she has much more depth. It's not much of things like, 'Ay, ang ganda ng lipstick o let's go shopping.' It's like woman to woman."
The most famous beauty doctor in the land described Kris's comeback as more than just a simple endorsement. "The breakup came so suddenly. It's both like a healing and a comeback."
Jojie Dingcong, Dra. Vicki's manager, added, "She [Kris] is very different na. One time, we would ask her, 'What do you want me to bring you?' She would just say, 'Don't worry about me na. Maybe something for Josh or Bimby na lang.'"
ADVERTISEMENT - CONTINUE READING BELOW
Then, playing his irreverent self, Jojie added, "'What do you want,' I would ask. Sabi niya, 'I just want a legal separation.'"
On her part, Kris said that she now appreciates Dra. Vicki better. "A lot more has changed because now I think I'm a lot more appreciative of who Doktora is, and I'm a lot less judgmental. And also, I think I love the fact that she is a survivor, because I see a lot of myself in her."
Kris confirmed what Dra. Vicki said earlier, that her comeback is a sign of healing. "It signifies, on a personal level, a level of healing on my part... on my part, a level of acceptance of where I am and where I'm headed. And also, siguro, a lot of optimism."
She sees her relationship with the doctor as lasting for a long time.
"Because I know that even with Dra. Vicki, even with uhm... Other personalities and other endorsements, you have an expiration date.
"Pero kay Dra. Vicki, alam ko na as long as she is alive, kahit na si Cristalle na iyon, I know that it will continue and it will be, and when Bimby is ready to be an adult, I see that relationship lasting that long," the 39-year-old host and actress said.
According to Kris, their relationship began its way to mending when Dra. Vicki granted an exclusive interview with her on ABS-CBN's showbiz talk show SNN about the controversy involving her, actress Katrina Halili, and Vicki's and Katrina's former flame, Hayden Kho. In a business where so many shows were jockeying for the scoop, that carried weight.
ADVERTISEMENT - CONTINUE READING BELOW
"I really appreciated that," Kris said.
She added that she appreciated most of all that the endorsement deal was finalized a day before the May presidential elections. "What really sealed the deal for me was that Dra. Vicki and I signed the contract May 9, the day before elections. Ganun siya ka-bongga!
"I mean, it was about six weeks, yung negotiations nila Jojie at ni Boy [Abunda], but yung ano, e, walang assurance what's gonna happen after May 10. She signed me up for three years.
"So, for me, that matters a lot. Ma-appreciate mo kasi those who took you on, even before the results were out or even before people casted their votes," the youngest sister of the country's president said.
The Queen of All Media also clarified that although their relationship in the past three years went sour, she had really nothing against the celebrity doctor.
"Wala naman siyang kasalanan sa akin. Hindi naman niya inakit yung asawa ko. Wala naman siyang kailangan i-sorry sa akin. Kasi wala naman siyang ginawang masama sa akin.
"In fact, ako nga yung nagpaiyak sa kanya. Kasi, di ba, naalala ko yung mga interview niya, nung nag-sign ako sa iba, na parang yung krinay [cry] niya dun, worse pa sa krinay ko nung nakihiwalay ako," she said.
BEAUTY TALK. What motivates Kris to stay healthy and beautiful?
In a calm, soft voice, Kris said that she is doing this for her children and for her future grandchildren.
"I want to live long because I want to be around to see my grandchildren. I realized what Bimby is missing out on because my mom died when he was, like, two [years old].
ADVERTISEMENT - CONTINUE READING BELOW
"So, I want to make sure that, like my older nephews and nieces, that they have a long time to spend with their lola. That is my motivation. I want to be healthy and I want to look good," she said.
Kris added that she wants her three-year-old Baby James to be proud of her.
"Pag sinusundo ko siya sa school, gusto ko sinasabi ng ano—'cause he's the only Filipino where he goes right now, and they don't really care who I am—I want those other moms to say that, 'Hey, your mom looks great,' 'cause he always says, 'Mom, you are beautiful.'
"I want him to say that until he is 18 years old," Kris smiled.
Dra.Vicki, on the other hand, gave beauty advice for women out there.
"I think loving your family includes loving yourself. By being happy with the way you look, by being happy with the way you are, you are also loving your family."
Kris revealed at the press conference that Dra. Vicki has two apartments in Paris, which the celebrity doctor was hesitant to admit.
Kris told her, "Kinukuwento mo [dapat] yung success mo. Kasi yun ang naipundar mo, so that would be an inspiration to everybody else, di ba? Hindi mo naman ninakaw. Pinagtrabahuan mo naman."
Dra. Vicki then shared what Kris told her in one of their casual chats. "Tanong niya sa akin dati, 'Do I have to make myself small to make other people better?'"
"So, ikaw, allow yourself to shine as brightly as you can, because you deserve it!" Kris prodded Dra. Vicki.
ADVERTISEMENT - CONTINUE READING BELOW
The celebrity doctor, speaking to PEP (Philippine Entertainment Portal) towards the end of the press launch, lauded Kris as one of the people she admires most. Included in her list are Lorna Tolentino, Zsa Zsa Padilla, Regine Velasquez and Ruffa Guttierrez.
She said, "These people are very particular. They are very intelligent. You talk to them, they are very smart. They really research."
BELO AND BOY. Kris Aquino's manager and former co-host Boy Abunda and Dra. Vicki have also had their rift (CLICK here to read related story).
But, according to Kris, making the deal to return as an endorser for the Belo Medical Group was not affected by Boy and Dra. Vicki's past misunderstanding, or by his current endorsement of a rival group, the Calayan Surgicentre.
Kris added that her manager knows what is best for her. "Boy is really the best when it comes to knowing what is best for me as far as endorsements are concerned.
"Because Boy said, 'Krissy, hindi puwede na lahat ng endorsements mo lang tungkol sa pagiging nanay, tungkol sa pagluluto, paglalaba.' Boy said that 'the glamour of being an artista means you need a beauty endorsement. You always need a minimum of two.'
"So sabi niya, pinagpre-pray niya talaga iyon. So nung dumating nga ito, siya pa nga nagsabi, with no hesistation, 'You should grab it.'"
Does this mean Boy and Dra. Vicki are now okay?
"No, I don't think they are like buddy-buddy. Because Boy is very loyal to whom he's endorsing, and I admire him for that.
ADVERTISEMENT - CONTINUE READING BELOW
"It's not like they are enemies also. And it was Boy who first acknowledged that as far as media presence is concerned, walang puwedeng tumapat kay Doktora.
"Gandang-ganda siya dun sa pictorial, 'tapos gusto niya na pag napapanood niya, 'Oh, in fairness, maganda talaga kutis mo ngayon,'" Kris said to PEP and to the other members of the press that night.
Does she see herself bridging the gap between the two?
Kris answered without hesitation, "Kung type nila, pero hindi ko pipilitin.
"That's what I realized in this world, pangit ang pinipilit. Everything happens in His own perfect time," the celebrity said.
TEAM-UP FOR A GOOD CAUSE. As part of the endorsement deal, Kris revealed that Dra. Vicki is helping out her older sister, Pinky Aquino-Abellada, in the latter's preschool outreach program.
The celebrity doctor has donated two houses in Capiz for the AAGAPAN Foundation, which aims to provide preschool education in rural areas.
Kris added that Dra. Vicki will concentrate mostly in the provinces of Bacolod and Capiz because that's where the doctor's parents trace their roots.
"I believe in teaching people how to fish rather than giving them fish. A lot of these kids drop out of school because they can't read or write," the celebrity doctor said.
"What changed for the two of us, I think, is that we reached a certain level of success that we realize we really have to do something good to our fellowmen," Kris added.
Explaining the rationale behind Pinky's program, Kris said: "Pre-school is [at] 5 [years old]. [In] most schools, nakakaapak lang [ang mga bata] ng school at 7. And at 7, kung hindi [pa nila] alam magbasa, nawawalan na [sila] ng gana."
ADVERTISEMENT - CONTINUE READING BELOW
Kris's eldest sister, Ballsy Aquino-Cruz, is in charge of the feeding program. "You feed the child in school para ganahan yung mga magulang to send the child to school. Because that means one less meal that they have to take care of.
"'Tapos inako ko yung health care, kasi nga sinabi ko sa family ko, I was the one there with mom [the late former President Cory Aquino]. Nakita ko at alam na alam ko yung lahat—and I know what it's like na may sakit ka and wala kang pera."