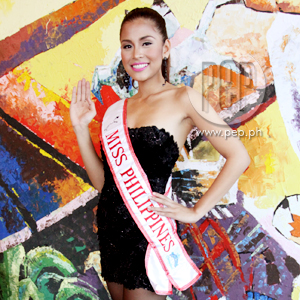 IMAGE 0
---
Mutya ng Pilipinas, Inc. hosted a send-off press conference for Barbie Salvador, 2010 Mutya ng Pilipinas-Tourism International title holder and the country's representative to the Miss Tourism International beauty pageant to be held in Kuala Lumpur, Malaysia from December 12, 2010 to January 2, 2011.
The send-off was held at the Banana Leaf Restaurant at The Podium in Pasig City, last Friday, December 3.
Present were officials of the Mutya ng Pilipinas, Inc., Barbie's parents Dr. Bles and Dr. Raul Salvador, bloggers, writers from broadsheets and PEP (Philippine Entertainment Portal).
Aside from representing the country and aiming for the crown, Barbie said she will promote Philippine tourism at the pageant in Malaysia.
"I'd tell them to come over. I'll be happy to host them," the 23-year-old beauty from Pozarrubio, Pangasinan said.
According to the Miss Tourism International website, the beauty pageant's original mission is to promote Malaysia's own tourism industry.
Barbie, on the other hand, sees the pageant as an opportunity to pitch the Philippines as a prime tourist destination in Asia.
"I believe in the passion of the Filipino when it comes to tourism," Barbie stated. "As I have said in the question and answer portion during the Mutya ng Pilipinas finals, Philippine tourism has heart behind it all."
Still on the subject of Philippine tourism, Barbie was asked for her opinion on the recent controversy at the Department of Tourism. Allegedly, the tourism logo of Poland was copied for the DOT's new tourism logo "Pilipinas Kay Ganda!"
Barbie looks at the controversy as a perfect example of democracy at play.
"I think we should look at the good part here...that democracy is still at play in the Philippines. What the people think, that's what we're gonna do, what we're gonna pursue. I think that's a good part there, in the story," commented Barbie.
ADVERTISEMENT - CONTINUE READING BELOW
During the Mutya ng Pilipinas 2010 competition held last August, Barbie, who stands 5'6 ½" and measures 35-25-35 inches, was one of the favorite candidates. She was considered a "veteran" in beauty pageants, and was even in the semi-finals of the 2009 Binibining Pilipinas pageant.
After her failed attempt for a crown in Binibini, joining Mutya the following year was fruitful for Barbie, as she won the Mutya ng Pilipinas-Tourism International crown and a chance to represent the country at the only New Year's Eve beauty pageant in the world.
PEP asked her if she still plans to join Binibini again after her reign as a Mutya beauty queen.
"Binibini is something I've already done," replied Barbie. "If I will do it, I don't know yet. But like I said, I take things one day at a time. So, we'll see. It's too early to plan for anything. You can't plan your life on sand. Many things could happen.
"I'm not closing, I'm not opening, I'm not saying anything. I'm just doing my reign right now and enjoying."