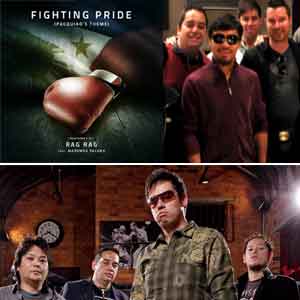 IMAGE 0
---
Manny Pacquiao's fighting prowess inside the boxing ring has earned him the respect of Filipinos and foreigners alike. The mere sight of him coming out of the dugout and into the ring has earned its rightful share of loud cheers from gargantuan crowds.
Now, what better way to introduce a world champion than to play his theme song? Playing a popular boxer's song in the first few seconds can get the crowd's adrenaline pumping even before he appears , because they all know that their man's about to make his glorious entrance.
For his next fight, Manny will have his own rocked-out theme song playing in the background.
Enter "Fighting Pride," a fresh track from Scottish-Filipino rock band Rag Rag. The song describes Manny's boxing achievements and attitude, mixed with funky guitar riffs and angelic hymns, not to mention the powerful vocal chords of Madonna Decena, Filipino finalist of Britain's Got Talent.
The boxer turned Sarangani congressman himself did the opening line, saying, "Deliver me from this fight, to honor you in my country."
The music track was digitally released worldwide last September 14, 2010 thru Authentik Artists. You can purchase the track via ITunes here
So, the next time you hear that intro at Manny's fight against Antonio Margarito on November 13, get ready to cheer!