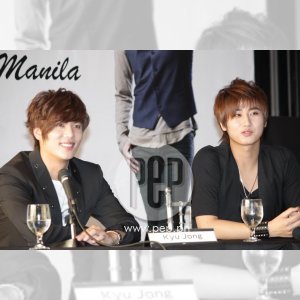 IMAGE 0
---
Last Thursday, February 3, two Korean male artists from the group SS501 arrived in Manila for And Story in Manila, their meet-and-greet session with the fans.
After arriving at the airport, singers Kyu Jong and Young Saeng were ushered to Hotel Sofitel in Manila to answer questions from press and fans alike.


Perhaps due to fatigue or the language barrier, the two Korean-speaking artists gave only short answers to the questions. Some queries also made them think hard before speaking.


When asked what their most embarassing moment is, Young Saeng replied, "Right now."


"They can't answer the questions. There are few questions that they did not think of right away," relayed the presscon's translator, Korean Mr. Jun.


Nevertheless, the two looked happy to be back in the Philippines.


"Philippines is not first time. We've been to Cebu for photoshoot and other activities. Manila is first time for us. Filipinos are very smiley and very friendly. We like Filipinos because they are very friendly," said Young Saeng.


Kyu Jong agreed and shared what he likes about the country.


"Good weather and people are good," he said. "We will come here for vacation, but this time, we came here for business. So we want to focus on that."


Young Saeng and Kyu Jong know that they have tons of fans here in Manila. These fans, they said, are no different from their Korean fans.


"Filipino fans, Korean fans are not different, just the language. We can feel the passion," the two said.


They even plan to work with our local artists, if they get the chance.


"We really want to work with Filipino actors and actresses. If we have opportunities, shooting or recording album, if we have opportunity we will," Young Saeng said.


The two also answered yes when asked if they can fall in love with Filipinas.
ADVERTISEMENT - CONTINUE READING BELOW
"It doesn't matter for us. If we think it's right, Filipino or any other country," they both answered.