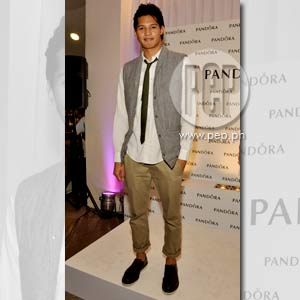 IMAGE 0
---
Borgy Manotoc was in a conversation with another gentleman when PEP (Philippine Entertainment Portal) interrupted him, "May we have a few minutes of your time?"
He waited for the nod of the person he was talking to before saying, "Okay, okay, what do you need?"
At the official launch of the jewelry store Pandora held early this month, he said "Everything but the tie and shoes is like bespoke."
On the sidelines, a curious showbiz reporter asked if it's a brand. The answer is no.
According to Textile History, "the word is derived from the verb to bespeak, to "speak for something." The French has haute couture, which is generally used by women. The British uses bespoke for men, and further defined the term as "to give order for it to be made."
An outfit can be categorized as such if it "individually-patterned and crafted"—meaning, it is "fully hand-made and the pattern cut from scratch, with an intermediary baste stage which involved a first fitting so that adjustments could be made..."
Back to Borgy, the son of the sportsman Tommy Manotoc and politician Imee Marcos is fond of shirts with long sleeves. "A guy will never feel out of place with it. But I don't usually tuck it in."
Over his shirt was a woven vest, which was perfect for early February's chilly air.
His pants were folded to give his get-up an edgy look, plus, "it goes well with the shoes."
The topic shifted to the lady she escorted that evening: Georgina Wilson.
When asked about their status, his reply: "Very well, very well. Yeah, we're very happy."
Is he eventually joining showbiz? "No" was his quick answer.
But when it comes to politics, he said, "Nothing's out of the question..."
We wanted to ask one more question, but Borgy himself ended the interview. Smiling, he said, "It's been a nice interview, but our time is up."
ADVERTISEMENT - CONTINUE READING BELOW