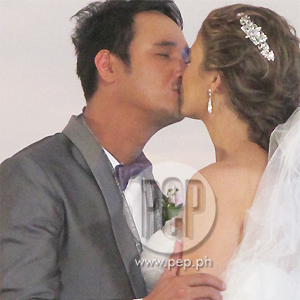 IMAGE 0
---
With the vast blue sea of San Fernando, La Union and the golden sunset at Thunderbird Poro Point Resort as backdrop—John Estrada and Priscilla Meirelles were pronounced husband and wife on February 26.
More than 200 people—who came from Manila, Zamboanga, Dumaguete, Bacolod, as well as Brazil and the U.S.—shared the special moment with the beautiful couple, who had prepared pre-wedding activities, such as a party for the ladies and a golf tournament for the gentlemen.
On the wedding day itself, the reception area looked splendid with its "international" theme and adorned with green and violet accents.
But what took everyone's breath away was the wedding ceremony itself held at the beach club.
SIDELIGHTS. While waiting for the groom and bride, there was an overall sense of camaraderie in the air.
Ogie Alcasid and Regine Velasquez-Alcasid were among the early birds. Although the couple spearheaded the Tatak EDSA concert the previous night, they had promised to attend the wedding.
ADVERTISEMENT - CONTINUE READING BELOW
Kris Aquino, who was busy using her mobile phone, looked somber. From time to time, she would exchange a few words with her friends in showbiz.
Meanwhile, "Wala si Papa," was Ai-Ai delas Alas' opening line when she spotted us. The Kapamilya star was referring to her Italian-Colombian boyfriend Gio Salvador. "May shoot..." she said, her eyes sparkling.
Some guests couldn't resist a photo op with Lorna Tolentino, who gladly obliged. When it was our turn to ask her to pose for a picture, she quipped, "Me ganun? Solo?"
The rest arrived almost at the same time, and began assembling in small groups.
Of course, the most asked question of the day was "Darating kaya si Willie Revillame?"
Unwittingly, John himself provided the answer. At one point, he said: "What's happening? Start na tayo, come on. Everyone's here."
His ex-buddy was supposed to be one of the best men. But shortly after John inked a deal with ABS-CBN as one of the hosts of Happy, Yipee, Yehey, Willie told him: "Magsolian na tayo ng kandila."
ADVERTISEMENT - CONTINUE READING BELOW
The outburst was broadcast live on January 26, exactly a month before the wedding.
And, the second most asked question of the day was, "Darating kaya si Sharon Cuneta?"
The Megastar was supposed to "walk down the aisle" again with ex-husband Gabby Concepcion; the two were veil sponsors. But she's presently in Japan.
Some of the guests pointed out that, partly, it may be because Dra. Vicki Belo and Hayden Kho Jr. were attending the event.
Hayden's billboard tweet had sparked a tiff between him and the Megastar.
THE MARCH. The groom, John Anthony Estrada in real life, was caught wiping his tears thrice. But when the coordinator signaled the start of the wedding march, he smiled.
John's former employer Manny Pangilinan, who was listed as ninong, was represented by one of his most trusted men, Bong Sta. Maria. Four more principal sponsors were absent: TV5 president and CEO Atty. Ray Espinosa, Viva's big boss and Willie's personal manager and business partner Vic del Rosario, Paparazzi host Cristy Fermin, and Star Magic's chairman emeritus Johnny Manahan, who was represented by Sam Milby.
ADVERTISEMENT - CONTINUE READING BELOW
Gabby found a partner in Vina Morales, whose daughter Ceana was one of the flower girls.
A little before 5:00 p.m., John's bride—Priscilla De Almeida in real life—walked down the aisle while 92AD sang "Ave Maria."
She walked like a beauty queen, of course, and smiled like a radiant bride. She started to cry when she saw her Brazilian friends.
THE VOWS. Tears came with laughter when the couple recited vows which they composed themselves.
John's vows went something like this: "I must have been a saint in my past life to have you in my life now. You must have been a very bad person in the past because I'm your karma now."
He also prepared a song for the Brazilian beauty queen. "You know, I'm not as good as my friend, Ogie Alcasid. But pare ko... I was able to write a song for you [Priscilla]. You wanna... you wanna hear it?
ADVERTISEMENT - CONTINUE READING BELOW
Smiling, his bride replied, "Of course!"
John continued, "It's not done yet but I tried. Babe, this song is for you...
"I'd rather have bad times with you, than good times with someone else/I'd rather be beside you in a storm, than safe and warm by myself/ I'd rather have hard times together, than to have it easy apart/ I'd rather have the one who holds my heart..."
The song was actually composed and performed by the late Luther Vandross, but—laughing—John claimed, "Pinag-isipan ko ho yun."
The groom suddenly turned serious, saying: "I will work very hard to make this work... Lastly, thanks for loving my kids. Thanks for loving my kids like they're your own. I love you, Priscilla."
Priscilla's vows also had hints of humor: "You know, usually I'm very organized in the sense that I prepare things ahead of time. But I must confess that I just finished my vows a few minutes ago. And it's because... It's because of a very special reason.
ADVERTISEMENT - CONTINUE READING BELOW
"I just... I just have too many words to describe this moment, and too many words to describe my relationship with you. It is just, you know... It is so hard to put it in just... five pages. It was 20, it became five. And that's the best I can [do] so I'm gonna start right now."
The bride read her lines, stressing the words "love" and "forever." Her voice began to tremble...
"I had a dream. I dreamed that I met one of the funniest, nicest, and most good-looking men. And that man was in love with me. In my dream, this man can make me laugh about serious things. He can make me cry... And just by looking at me or by just touching me, he makes me completely melt just like marshmallows on fire.
"I gave him the most precious thing I have. I gave this man my heart. Babe, we have been through so many things...
ADVERTISEMENT - CONTINUE READING BELOW
"I need you to know, that I will always be here for you no matter what—the good and the worst, during sunny days and on very rainy days, when you're moody or not... If you need me or not, you don't have a choice coz I'll be there.
"And I will always, always be beside you no matter what. Because love means to share the world with someone else. And there is nobody else that I wanna share my world... except for you.
"... I promise that I will try to be the perfect person for you—the one you need, not the one you want. And if I hurt you, I will kiss your wounds until they heal.
"... I promise that even if I won't always be beside you, I'll be somewhere else waiting for you. And I promise that I will love you forever, forever... not only until the last day of my life."
ADVERTISEMENT - CONTINUE READING BELOW
For the first time, John was speechless. The only word he managed to say was "Wooh!!!"
Pri (Priscilla's nickname) ended her vows with, "Every second, I will try my best to make you the happiest man on earth because when you love someone, everything makes sense. I love you so much. Te amo, mahal."
The sun had set into the sea when John and Pri were pronounced husband and wife. The union was sealed with not one, but two kisses—the second lasted for more than 20 seconds.