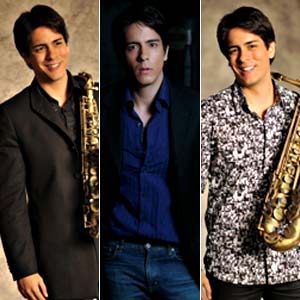 IMAGE 0
---
Michael Young fondly remembers working on a particular scene under the direction of Wenn Deramas in the 2007 comedy film Apat Dapat, Dapat Apat.
"Wenn said I was gonna wear a suit for that and then finally before we shot it, he told me, 'The scene's going to be in the CR and you just took a shower. So you can't be wearing a suit,'" Michael laughs over lunch at Lolo Dad's Brasserie in Makati City.
Michael's first taste of local showbiz actually started in 2006 when he was cast in ABS-CBN's primetime series titled Walang Kapalit.
"I played the typical foreigner boyfriend. I guess Piolo went to the States or Australia so Claudine was all alone," the 27-year-old describes his role.
With a chuckle, Michael says, "I kept her [Claudine] company for two episodes!"
LIFE AS A MUSICIAN. But while trading lines and acting chops in front of the camera are both "interesting and fun," Michael has always been at his best while onstage playing the saxophone.
ADVERTISEMENT - CONTINUE READING BELOW
The Filipino-German musician started playing the piano at the tender age of 5. He eventually fell in love with the saxophone and went on to embrace it as an instrument of choice.
"When I picked it up, it just felt right. It was like an extension of my body. All of a sudden you're doing something and there's a connection," says Michael.
"But in terms of thinking 'Okay, I can move people with this'... It's just not a machine, you can actually put creative powers through this, and move people, and make money, and have concerts, and play original music—that didn't hit me. That probably hit me around high school."
By the time he reached 16, Michael had already made his debut at the Carnegie Hall in New York City.
Michael pursued saxophone studies at the University of Michigan before learning solfege—a complex technique wherein one learns how to read notes along with special musical syllables.
ADVERTISEMENT - CONTINUE READING BELOW
"I mean, in terms of saying 'I want to become a musician,' I never really said that. It felt like a natural thing to do. So I did music school and I auditioned. But I didn't wake up one day and said that I'm gonna be a musician."
PINOY TALENT. Michael has been living here in the Philippines long enough to appreciate the music and entertainment scene.
But he never hesitates to voice out his opinion on what's ailing the local music industry.
"There are a lot of cover-song groups, which around the world that's what Filipinos are known for. We're known for really excelling in cover songs imitating other people and doing a decent job out of it," Michael remarks.
"In terms of originality, there's not much coming out from here. So people look down upon us on that regard. In terms of playing on cruise ships, playing on four-star hotels and back-up bands, that's where we're kind of respected. But I don't know if it's respect or it's just like, 'Oh, Filipinos are good at that'—but that's about it."
ADVERTISEMENT - CONTINUE READING BELOW
Michael feels that being under the influence of the Spanish, Japanese, and Americans diminished our sense of identity.
"We are really big on Western TV, Western culture, Channel 2, and Channel 7. I'm not knocking these channels down, there's good things that comes from those channels. But then if you look at stuff like ASAP or SOP [now known as Party Pilipinas] it's just halo-halo presentation.
"We jump from people wearing Justin Bieber wigs to singing Michael Jackson songs. But in terms of new stuff there's not much. So in that way we're kind of behind."
Continues Michael, "We need more government support because pretty much everybody's on their own. If you want to excel in singing lessons or if you want to excel in instrumental lessons you have to go out there and pay money to do it.
"It's not in the public school system or even in the private school system. There are a lot of talented poets, athletes, and writers here, but everybody's on their own."
ADVERTISEMENT - CONTINUE READING BELOW
Michael cerainly knows what he's talking about in terms of education. He's a saxophone professor at the University of the Philippines, University of Santo Tomas, and St. Paul University in Manila.
HANDS FULL. Michael is currently busy recording four musical projects.
"The first will be a classical album with piano. This will consist mainly of slow, beautiful sounding melodies. The second will be a recording of all Filipino songs with a small string chamber orchestra. The third will be for the club scene and will be originals of saxophone melodies and improvisations with a DJ and the fourth, a jazz-pop quartet CD with some originals."
Michael and the producers intend to release the albums in different countries, particularly Norway, Germany, Japan, and the Philippines.
The album composed of Filipino tunes set to classical music and jazz has been an idea floating around for years.
"I'm not sure how to do it," confesses Michael. "It was the Norwegian producer who said 'Let's do this.'"
ADVERTISEMENT - CONTINUE READING BELOW
Completing four recording projects all at the same time may sound like a bad idea at this time considering the escalating problems confronting the music business.
Michael is well-aware than an album nowadays is not being regarded as a money-making product anymore. Unfortunately, the value and role of a CD has diminished considerably with the advances in technology.
Artists and everyone else working in the music industry are forced to adjust on how they do things to address their respective needs in accord with the situation.
"People are not buying records anymore," Michael observes.
"The music scene is not good, record stores are closing down, and everybody's downloading on iTunes and YouTube. The market's really changing so I look at CD as a business card.
"For me I just want to get it to the right people. It's my portfolio. But for me it's more on getting it to the right hands: people who are concert lookers, people whom I can collaborate and people who really want to buy the CD."
ADVERTISEMENT - CONTINUE READING BELOW
OPEN FOR ANYTHING. Michael's good looks have always afforded him the chance to do not just acting and music.
During the time of the interview, Michael just finished shooting for a television commercial of a milk brand. Some of the products he endorsed in the past include a shampoo brand, a fast food chain and medicine product, among others.
Although an ardent client of Beverly Hills 6750, Michael clarifies that he is not an image model of the multi-specialty aesthetic clinic.
Doing modeling shows is not part of Michael's list even though he experienced the catwalk in 2006 during a fashion show here in Manila.
"It's okay," he said about the experience. "But it's not who I am."
Michael further adds, "I think the client's taste right now is very different. They're riding this Brazilian craze right now, Brazilian-Japanese, and there's nothing you can do about it. I'm linked in there because I'm Euro-Asian but if we have a final casting and there's ten of us it's just they're gonna take their pick. I don't really have time for that. I've done different commercials and print ads and I'm fine with that."
ADVERTISEMENT - CONTINUE READING BELOW
Appearing on a musical variety show is not a bad idea either especially if one is thinking of reaching a wider market to spread his brand of music.
"That's exactly what I would like in terms of the music because I could be doing corporate events for the next five, six, seven years I can get magazine write-ups, I can be on the newspapers everyday but some of these guys don't know me so the only way that they would know me is through TV," he candidly says.
A saxophonist performing on ASAP XV or Party Pilipinas?
"They really haven't had a saxophonist, really," replies Michael. "That's what I would like to do."