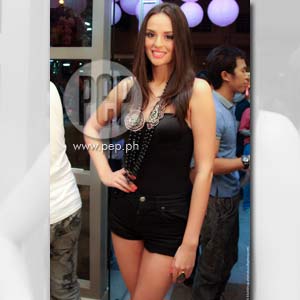 IMAGE 0
---
Georgina Wilson turns heads wherever she goes.
At the opening of the new clinic of Dra. Vicki Belo at The Residences at Greenbelt, she arrived wearing a top from Hot Pink and shorts which showed off her long, shapely legs.
Asked how she maintains her figure, Georgina replies, "Hard work."
Discipline has taught her to make time for exercise despite a hectic schedule. "Once you get used to it, your body will look for it," she says.
She tries to work out every day. "I go to the gym five to six times a week. It is really important to have a healthy lifestyle."
As for her beauty regimen, she says she makes sure her face is clean before going to sleep. "That is a must," Georgina stresses.
ON BORGY MANOTOC. The topic shifts to her beau, whom she describes as "sweet, caring, thoughtful..." She pauses and then adds, "and intellectual."
The earliest published sighting of Georgina and Borgy was April 2010. Five months later, the Fil-Brit beauty admitted, through the column of good friend Raymond Gutierrez: "We are dating."
Fast forward to March 2011, she tells PEP (Philippine Enetrtainment Portal): "I love [it] when he tells me things that I probably wouldn't know without him telling me."
The grandson of former President Ferdinand Marcos, she says, is "very practical."
But, "there are times when he would just surprise me!"
She relates one romantic incident. "One time, I was having a bad day. And there is this restaurant that I wanted to try for so long. We went there and he sort of had the place closed just for the two of us."
To finish off this exclusive interview, Georgina says, "I'm just happy with the way things are going in all aspects of my life right now."