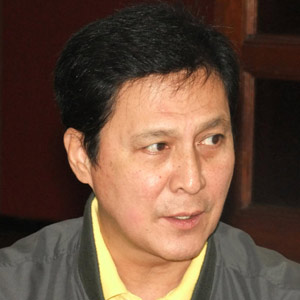 IMAGE 0
---
After helming socially relevant films Dukot and Sigwa, Joel Lamangan is now busy directing his latest indie film titled Deadline.
Direk Joel and screenplay writer Boni Ilagan collaborated for this political thriller about media killings and warlordism in the Philippines.
"Warlord" is defined as a military commander exercising civil power by force, usually in a limited area (Merriam-Webster).
In the Philippines, a warlord refers to a powerful political person who maintains control over a certain province through a heavily-armed private army.
Direk Joel plans to use live sound so they can capture the emotions of the stars during the scene instead of dubbing their voices at a later date.
He also plans to hire a vocal coach to help the actors who will use the Maguindanao dialect for some of their lines.
THE STARS. The lead stars of the film had their first shooting day yesterday, January 6. Deadline is scheduled to be released during the first quarter of 2011.
The film features two pairs of journalists: the first pair is based in Manila while the other pair resides in Mindanao.
Lovi Poe is cast as Greta Manarang while TJ Trinidad plays Ross Rivera, the members of the press based in Manila. They both want to find out who ordered the killing of reporter Henry Rosales (to be portrayed by Luis Alandy), who happens to be the fiancé of Greta.
Allen Dizon and Ina Feleo will portray the Mindanao-based writers Azad Zinan and Claire Pasilan, respectively.
THE MASTERMIND. Tirso Cruz III plays the politician who is the mastermind behind the massacre of journalists.
"I will create a Gov. Muntazir Ghazi," promised Tirso in an interview with PEP (Philippine Entertainment Portal).
"His character thinks he is justified. He makes sure that what he does serves him."
The award-winning actor believes that making Deadline is his way of giving back to society.
ADVERTISEMENT - CONTINUE READING BELOW
"This is our way of contributing to society, reminding people and trying to record and point out criminal incidents na dapat nating labanan.
"When I think about it, this is for my children and the coming generation. I don't want them to fall prey into these things. It can serve as an awakening for other people."


INSPIRED BY AMPATUAN MASSACRE? Boni Ilagan pointed out the timeliness of Deadline because it will be released a few months after the first anniversary of the Ampatuan massacre.
On the 23rd of November 2009, 58 people were killed in a Maguindanao municipality by men with high-powered firearms.
Among those killed were 32 journalists from radio and TV stations as well as from the print media. They accompanied the wife and family members of Vice Mayor Esmael Mangudadatu who were supposed to file his certificate of candidacy in his behalf. Mangudadatu was planning to challenge Mayor Andal Ampatuan Jr. in the 2010 Maguindanao gubernatorial election.
A murder case has been filed against members of the Ampatuan family, including its patriarch, former Maguindanao governor Andal Ampatuan Sr.
The film Deadline will not actually depict the Maguindanao massacre but the filmmakers say that it is inspired by real events. It will also depict the murders of journalists who speak out against illegal logging, jueteng, and illegal mining in various provinces.
Boni recalled, "Even before the Ampatuan massacre, napag-usapan na namin ni Direk Joel na gumawa ng pelikula tungkol sa media killings dito sa Pilipinas.
"We aim to provide the public with an insight... Nababalita sa atin na may napatay na journalists. Pero kung bakit, at kung anong dahilan, hindi malinaw sa tao.
"Naniniwala kami na may malaking koneksiyon ang mga pagpatay sa mga media at sa pagkakaroon ng private armies ng mga politiko."
Tirso also shares in this belief.
He said, "Private armies are something that shouldn't be there. You don't really need a big army to protect you.
ADVERTISEMENT - CONTINUE READING BELOW
"First and foremost, you don't need protection if you're not doing anything wrong. You won't need protection kasi yung mga tao mismo, sila ang magpo-protect sa 'yo.
"If you're doing right by them, if you're within the bounds of legality, yung mga tao na yun mismo ang tutulong sa 'yo."
The 1987 Constitution bans citizens from having private armed groups.
However, in 2006, former President Gloria Macapagal Arroyo issued Executive Order 546, allowing local officials and the Philippine National Police to deputize barangay tanods as "force multipliers" in the campaign to wipe out the threats of terrorism and insurgency.
This Executive Order has been used to legalize paramilitary groups that double as private armies of politicians.