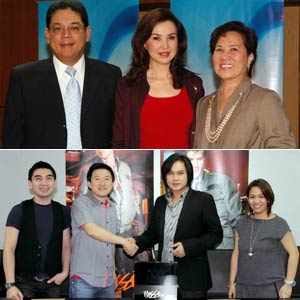 IMAGE 0
---
MISS WORLD PHILIPPINES 2011. CQ Global Quest Inc. signed today, March 22, a contract with GMA Network Inc. for the production and airing of Miss World Philippines 2011. CQ Global Quest Inc. is the franchise owner of the said pageant.
Ace composer and arranger Louie Ocampo will compose the theme song, while famous artist, sculptor, and designer Eduardo Castrillo will create the crowns and trophies for the titlists.
Present at the signing were GMA Network president and chief operating officer Gilberto R. Duavit, Jr.; CQ Global Quest Inc. chairman and chief executive officer Cory Quirino; CQ vice president Vic Alcuaz; GMA senior vice president for Entertainment Wilma V. Galvante; vice president for Entertainment Marivin T. Arayata; senior program manager Bang Arespacochaga; program manager Ali Nocom Dedicatoria; composer Louie Ocampo, and creative consultant for entertainment musicals and specials Agnes S. Caballa.
MR. AND MS. ECOTOURISM PHILIPPINES IS ON. The search is open to all interested male and female models with the following qualifications:
(1) At least 18 years old and not older than 25 years old
(2) Single (never been married and not a parent)
(3) Stands at least 5'5" tall for female and 5'7" tall for male
(4) High school graduate
(5) Must have the beauty and the body!
Above all, they must be knowledgeable about Philippine culture and tourism.
Screenings will be held on March 26 and 27 and on April 2 and 3 at 1:00 P.M.
Applicants must bring their portfolio, set card/photos and swimwear to the screening. You can also check out Mossimo branches, one of the major presenters of the Mr. and Ms. EcoTourism Philippines, for more details on the event.
Finals will be on June 18 at Canyon Cove, Nasugbu, Batangas. This project is being organized by Paul Zhuang and his production outfit, Galaxy Production.
For other info, call the Mr. and Ms. EcoTourism Philippines secretariat office at 482-9106 or 0919-6245466 and look for Laarni Tila.
ADVERTISEMENT - CONTINUE READING BELOW