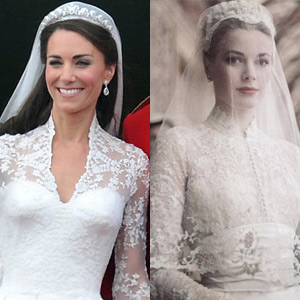 IMAGE 0
---
Catherine "Kate" Middleton looked stunning as she walked down the altar of Westminster Abbey last April 29, 2011.


As soon as Prince William laid eyes on Kate, he told her, "You look beautiful."


Contributing greatly to her dazzling presence was her elegant wedding dress designed by Sarah Burton, the creative director of the Alexander McQueen label.


Kate worked closely with Sarah to design a dress that would "combine tradition and modernity."


As a result, the new Duchess of Cambridge wore a gown that combines '50s glamour with a sleek, modern silhouette. Made with ivory and white satin gazar, its corseted bodice emphasized Kate's small waistline.

It has a V-neckline with long lace sleeves since she cannot expose bare shoulders in Westminster Abbey. The dress also featured hand-embroidered English and French Chantilly lace and a satin gazar pleated skirt. There were 58 silk and organza-covered buttons at the back of her gown.


Kate's wedding train measures 9-ft long, which is much shorter compared to the almost 25-ft train worn by Princess Diana in her wedding to Prince Charles in July 29, 1981.

For several months, seamstresses from the Royal School of Needlework stitched ­daffodils, shamrocks, roses and thistles on to the bridal gown.


Kate wore her hair in a demi-chignon while her head was adorned by a 1936 Cartier halo-style tiara lent by Queen Elizabeth II. She also wore the 18-carat sapphire and diamond engagement ring that previously belonged to the late Princess Diana.


For the reception at Buckingham Palace, Kate also wore another Sarah Burton creation: a strapless white gown made of satin. It has a sweetheart neckline and a circle skirt giving a similar silhouette to her wedding gown. Her slim figure was accentuated by a rhinestone waist band and topped with a cropped angora white sweater.


Sarah Burton has been quoted as saying that the wedding gown that they created "represents the best of British craftsmanship."


Sarah took over the brand when Alexander McQueen committed suicide last year. Originally from Manchester, England, Sarah moved to London to study print fashion in the same school where McQueen studied: Central St. Martins. She became McQueen's personal assistant in 1997. In 2000, she became head of womenswear for the British fashion house.


An Alexander McQueen gown was also worn by a high-society British bride in September 2005. Sarah Buys wore a corseted strapless cream silk and tulle wedding gown for her wedding to Tom Parker Bowles, who is Prince William's stepbrother.


Sarah Burton has designed dresses that have been worn by Hollywood stars such as Cate Blanchett, Lady Gaga and Gwyneth Paltrow as well as the United States' First Lady Michelle Obama.
ADVERTISEMENT - CONTINUE READING BELOW

COMPARISON WITH GRACE KELLY'S GOWN. In the April 2011 issue of People Magazine, Kate Middleton was quoted as saying that she loved the dress worn by Grace Kelly during her wedding to Prince Rainier of Monaco in 1956.


Grace Kelly is an American actress whose movies include the Alfred Hitchcock movies Dial M for Murder (1954) and Rear Window (1954). Like Kate, the late actress Grace Kelly was a commoner who married royalty.


The Hollywood actress wore a wedding dress designed by Helen Rose, the head wardrobe designer of MGM (Metro Goldwyn Mayer Studios).


Kate's wedding gown had a lot of similarities with the delicate lace dress used by Grace Kelly. Similar features also include the use of see-through long sleeves, simple bouquets, short veils and modest trains.


Both Kate and Grace Kelly wore lace long-sleeved wedding gowns with waist-cinching bodices and voluminous skirts.

One notable difference is their choice of neckline: Grace Kelly's gown had a high collar top while Kate opted for a modestly plunging neckline.

PREVIOUS ROYAL WEDDING GOWNS. Kate's dress, however, deviated from the gowns previously worn by the British royal brides.
Prince William's grandmother and mother both used pearls as embellishments.


In 1947, Princess Elizabeth Alexandra Mary (later Queen Elizabeth II) got married to Phillip Mouthbatten. She wore a silk and embroidered gown with crystals and 10,000 seed pearls, with a 15-ft lace train, designed by Norman Hartnell.


When Princess Diana married Prince Charles of Wales in 1981, her gown also featured 10,000 pearls and sequins, which were hand embroidered on her dress.


Princess Diana's ruffled wedding gown, designed by David and Elizabeth Emanuel, had a 25-ft silk train and featured huge and puffy sleeves.
ADVERTISEMENT - CONTINUE READING BELOW

Amidst all the talk about similarities and differences in their gowns, they all shared one common denominator: the brides radiated beauty, elegance and confidence as they walked down the aisle for their own fairy-tale wedding.