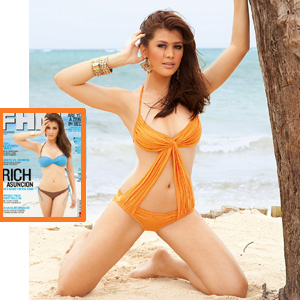 IMAGE 0
---
"Men only tell you what you want to hear, even though they don't mean it sometimes."
A statement tinged with bitterness, Rich Asuncion hasclearly had her heart broken. But she proves that women look hotter after heartbreak as she sizzles on the cover of FHM this May.
Five months into being single, Rich is still hurting as she tells FHM, "I don't want to describe men now kasi bad pa yung impression ko... Sobrang minahal ko kasi, e. And that was my first boyfriend... It was really hard for me since nasa showbiz ako. But it was a great learning experience."
Before men decide to line up at her doorstep, Rich cautions that she's looking for the real deal. "Ayaw ko kasi yung mga fling-fling lang. I'm not that kind of girl. Lumaki akong kapag may relationship, dapat maayos," she says.
Rich describes her ideal man as "someone who's true and has no pretensions... Someone who can protect me and keep me from being hurt... and [is] capable of being in a serious relationship kahit nasa showbiz ako."
The self-proclaimed probinsyana from Bohol shows off her curves as she poses in colorful bikinis, frolicking on Boracay's white sands while telling FHM about juggling school and showbiz. Did she, by chance, mention the name of her rumored ex-boyfriend Aljur Abrenica?
Find out by grabbing a copy of the May issue of FHM, available in newsstands, bookstores and supermarkets nationwide for only P140.
SHARE THIS STORY " data-url="https://www.pep.ph/lifestyle/24625/first-time-fhm-cover-girl-rich-asuncion-on-finding-the-right-man-ayoko-ng-fling-lang" data-desc="In her interview, she also describes her ideal man." data-image="https://contents.pep.ph/images2/writeups/2a6859795.jpg"> " data-url="https://www.pep.ph/lifestyle/24625/first-time-fhm-cover-girl-rich-asuncion-on-finding-the-right-man-ayoko-ng-fling-lang" data-desc="In her interview, she also describes her ideal man." data-image="https://contents.pep.ph/images2/writeups/2a6859795.jpg"> " data-url="https://www.pep.ph/lifestyle/24625/first-time-fhm-cover-girl-rich-asuncion-on-finding-the-right-man-ayoko-ng-fling-lang" data-desc="In her interview, she also describes her ideal man." data-image="https://contents.pep.ph/images2/writeups/2a6859795.jpg">
SHARE THIS STORY
" data-url="https://www.pep.ph/lifestyle/24625/first-time-fhm-cover-girl-rich-asuncion-on-finding-the-right-man-ayoko-ng-fling-lang" data-desc="In her interview, she also describes her ideal man." data-image="https://contents.pep.ph/images2/writeups/2a6859795.jpg"> " data-url="https://www.pep.ph/lifestyle/24625/first-time-fhm-cover-girl-rich-asuncion-on-finding-the-right-man-ayoko-ng-fling-lang" data-desc="In her interview, she also describes her ideal man." data-image="https://contents.pep.ph/images2/writeups/2a6859795.jpg"> " data-url="https://www.pep.ph/lifestyle/24625/first-time-fhm-cover-girl-rich-asuncion-on-finding-the-right-man-ayoko-ng-fling-lang" data-desc="In her interview, she also describes her ideal man." data-image="https://contents.pep.ph/images2/writeups/2a6859795.jpg"> " data-url="https://www.pep.ph/lifestyle/24625/first-time-fhm-cover-girl-rich-asuncion-on-finding-the-right-man-ayoko-ng-fling-lang" data-desc="In her interview, she also describes her ideal man." data-image="https://contents.pep.ph/images2/writeups/2a6859795.jpg">