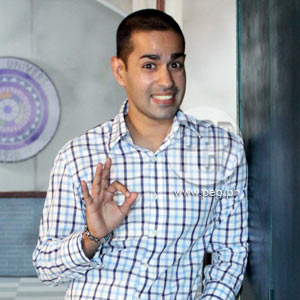 IMAGE 0
---
Sam YG, more popularly known as Shivaker, is one of the actors today who comes from radio broadcasting.
He was first introduced as a host in Magic 89.9's radio program, Boys Night Out, where he hosted with Tony Toni and Slick Rick.
Now he's starting to get on track with his showbizcareer, but it was not an easy way up for him.
Growing up with racism. Everyone knows that Sam is a pure-blooded Indian. Both his parents are from India but he was raised here in the Philippines.
Sam YK says he has always been a Filipino at heart; in fact, just last year, after three years of waiting, he officially received his Filipino citizenship. (CLICK HERE for related article).
Growing up as an Indian was never easy for Sam. In our country, Indians are stereotyped as bike-riding "Bumbay" credit collectors or "5-6" and Sam had to grow up amid such racism.
"Elementary pa lang ako pinagdaanan ko na yan." He recalls.
"Yun childhood ko, lahat ng 'yan pinagdaanan ko 'yan, grade three pa lang ako.
"Hindi madaling maging Bumbay dito sa Pilipinas, e."
Sam admits that when he was younger, he was greatly affected by mocking names. But later on he learned to deal with it.
"Bata pa lang ako, dati nahu-hurt ako I'll admit.
"Pero nung high school ko parang yun yung turning point ko na parang titingin ka sa salamin na parang okay, Bumbay naman talaga ko, e, di ba?"
He finally learned to accept his ethnicity and started bringing out the best in himself.
ADVERTISEMENT - CONTINUE READING BELOW
He pursued his studies and graduated with a degree in Legal Management at Ateneo de Manila University.
Sam's calling. While he was still studying, Sam auditioned for the Junior Jock program in magic 89.9 just for fun.
But it turned out to be the start of his radio announcing career.
"When I was in 3rd year college and I auditioned for that Junior Jock program sa Magic [89.9] tapos yun, nakuha naman ako, nag-enjoy naman ako.
"Tingin ko yun ang calling ko, e."
Later on, Sam, together with Tony Toni and Slick Rick, hosted the Tuesday radio program of Magic 89.9, Boys' Night Out.
This group is known for their hilarious and sexy radio program which makes every listener's Tuesday night crazy.
The group even has a column in Cosmopolitan magazine, where they either give advice or try out stuff which they haven't done before.
Eventually, Sam started hosting on television.
"I was more of hosting cable TV shows, e. Like in MTV, I have two shows there and I also have a show in Channel V.
"From there, sa Eat Bulaga! yung Shivaker. [Then] I hosted Diz Iz It."
He also worked in Tweet Biz as Shivaker, discussing different showbiz stories and controversies. He even appeared in TV5's daily showbiz talk show Juicy.
Shivaker admits he owes his popularity to GMA-7's noontime show Eat Bulaga!.
"Starting talaga is in cable TV pero yung big break talaga is siyempre sa Eat Bulaga."
Even though he's off to expanding his grounds, he clarified that it's not an issue with his group, Boy's Night Out.
ADVERTISEMENT - CONTINUE READING BELOW
"It was never an issue," he says.
"I was working with them in the past five, going more than five years already in Boys Night Out.
"So I think with every project we get, they've been such a support group, e.
"Kasi alam nila medyo nahihirapan ako, sila pa yung tutulak sa akin na, 'hindi, kaya mo yan, do it kasi it's for the good of your career.'"
Radio to TV. Meanwhile, his career on TV has now evolved. From hosting different shows like Diz Iz It, the talent show that he hosted with Bayani Agbayani, he's now into acting.
Sam is one who will play a lead role in the upcoming TV5 show, Iskul Bukol. Here, he will be one of the Balidoso Twins, the one they consider as the counterpart of the Escalera Brothers.
Though he had several TV exposures before, this is his first sitcom project. At first, Sam had a hard time coping up with this kind of set up.
"I've done hosting in TV and radio. Medyo madaling i-reconcile yung hosting sa TV and sa radio kasi basically yan alam mong se-segue ka lang, magsasalita ka lang,
"[Dito] scripted, di ba? Pag hosting iba.
"So ngayon, yun yung first na challenge for me I guess."
It was Malou Choa- Fagar who informed Sam about the auditions for Iskul Bukol.
"I'm so much thankful kay Tita Malou as always, na ayun nga she informed me, she told me to audition for this,
"A window for another opportunity, for another project."
ADVERTISEMENT - CONTINUE READING BELOW
As of now, he was focused on this new show. He even set aside some projects to prepare for this.
"Right now I'm really focusing, e, I'm doing my research on the characters.
"Of course may pagkakaiba na sa characters ngayon, doing our research and really focusing on what I'm doing, I'm putting a lot of attention to it."
The role given to him is not easy. He admits that, "I think [pressure] that's expected kasi we're carrying not only the name but I think the legacy of Iskul Bukol."
Though pressure was there, he was glad to accept the role to become one of the Balidoso Twins, which is the counterpart of the Escalera Brothers on the original Iskul Bukol.
"Siyempre we're very thankful that we were granted this show, I'm sure with their approval also, na kami ang magiging cast ng batch na ito ng Iskul Bukol."
But aside from the chance given to him, he will always be thankful for the people who he works with in this project.
"I'm working with a very, very good team and I'm blessed with a very, very good team."
Dream Roles. Like any other neophyte in acting, Sam has a dream role. For him, it's hosting a game show.
The talent show Diz Iz It is somehow a game show. Though it didn't run for long, he was glad he had the opportunity to be a part of it.
"No regrets," he said.
"Kasi everything happens for a reason. So, everything is a learning experience and I think naman nakilala yung show, e."
ADVERTISEMENT - CONTINUE READING BELOW
Does he think that it's too early for him to be a part of such shows?
He smiled and said, "Well on that note, hindi rin."
"Kasi for me, when one door closes another one opens naman. Wala e, we have to move on.
"What's important is, I guess, is that would you look at it that way or would you look at it as another venue to learn.
"You know what it was [is] a blessing kasi ang dami kong natutunan."
One more thing that he would like to try is starring in a sitcom. It turns out, Iskul Bukol is a wish granted for him.
"When it comes to acting, sitcoms isa sa bucket list ko yan parang na-check ko na 'yan kasi ito na, e."
How about the action star roles?
He laughed and said, "Nung maliit talaga ko gusto ko action star!"
"[If] given a chance, gusto ko din [ng ganun role]. I mean want to get a taste of everything."
Since he's Indian by blood, everyone is curious if he will be interested in starring in a Bollywood film.
"Yeah maybe I'll take it."
"I think kasi in every type of industry, of movie or film, TV series, there's a certain element na kakaiba, e."
Yet for now, Iskul Bukol is his top priority. He wants to take one step at a time in his career.
"Right now focus on one thing. I want to get this really mastered muna, sitcom and then yeah, it's time for other roles."
ADVERTISEMENT - CONTINUE READING BELOW
He said, "Nakilala na yung Shivaker, e, to some extent, di ba?"
"Ngayon as Sam YG naman, into another setting naman."