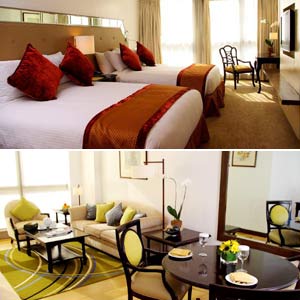 IMAGE 0
---
ADVERTORIAL
Discovery Suites, the premiere serviced residence located in the heart of the Ortigas Business District, recently unveiled its new executive accommodations which they have branded asSerendipity Suites.
"Our Serendipity Suites targets corporate guests and frequent individual travellers who desire enhanced levels of hospitality," says General Manager Bobby Horrigan. "It should appeal to individuals who value the care, pampering, and overall experience of a five-star hotel, but also wants the privacy and creature comforts that a private home or apartment provides."
The Serendipity Suites experience provides exclusivity with a distinguished collection of Junior, One, Two and Three-Bedroom suites located in two especially-dedicated floors.
The Singapore-based Miaja Design Group served as interior design consultants for the newly-minted accommodations ,while Filipino designers added a few practical elements for that local touch.
Despite the modern trappings, the emphasis will still be on the creature comforts that Discovery Suites "loyalists" have become accustomed to. Soft billowy beds remain the highlight of the stay.
However, the experience is made even more pleasurable with the hotel's roving Pillow Concierge, which lets the guests select from a menu of pillows (goose feather, foam, cotton or hypo-allergenic).
A fully-furnished kitchen—with an oven and refrigerator, a dining table, and reception area—for suite-category rooms lends well for small gathering and entertainment for the more sociable guests.
En suite entertainment is ensured with the provision of 32-inch flat screen television, iPod docks and a personal stereo component system. The internet savvy will get to enjoy complimentary broadband connection for the whole duration of their stay.
Guests who book Serendipity Suites accommodations are accorded with check-in and check-out assistance by Discovery's Guest Relations associates, a courtesy ten-minute neck and shoulder massage by the therapists of the exclusive Terra Wellness Spa, daily newspaper delivery, and an exclusive breakfast venue at the Serendipity Lounge from 6:00 a.m. until 10:30 a.m.
ADVERTISEMENT - CONTINUE READING BELOW
For inquiries and reservations about the Serendipity Suites, call (63 2) 719.6931-32 / 719.8888. You may also inquire via e-mail at rsvn@discoverysuites.com.ph
SHARE THIS STORY
SHARE THIS STORY