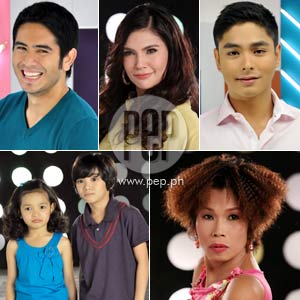 IMAGE 0
---
Once again, it seemed like the Kapamilya stars were auditioning again as Star Magic talents.
They were asked to smile, laugh, dance, and cry in front of the camera, but it was for a music video celebrating the talent arm's 19th anniversary
Paul Soriano, who was tasked to do the project, said he wanted to show the celebrities giving their best.
"I think, every artist or talent that wants to become a star wants to go through some sort of auditions. We're gonna be showing everybody, even though they're a big star or just starting, going through an audition process. Of course, it's being fun.
"You know, when you're auditioning for a role or for a commercial, you have to smile, drama, emote, laugh, di ba? You know, make sure it tastes good, it looks good. That's what we're doing din. Each talent goes through a series of emotion," the young director enthused.
Direk Paul also wanted the talents to just act naturally and have fun during their two-day shoot at the Abacadabra Studio in Makati City recently.
He said, "We thought, 'You know what, let's just show them having fun, doing something a little different from what you see on TV, get to know them a little bit more personally.' I think that's what the people would like to see."
At present, Star Magic has more than 300 talents, who will all be given equal exposure in the video, which will be launched in June on ASAP Rocks.
"We'll definitely give them each their own equal exposure," he said. "I will try to give everybody, you know, their moment to shine. I think this is also why Star Magic is doing this. They want to give their talents something like this."
ADVERTISEMENT - CONTINUE READING BELOW
How was it working with a bunch of talents for one project?
"It's a challenge," he answered. "I think it's something I really look forward to because you don't know what to expect, everybody's got their own style.
"But to be able to direct them and tell them that this is what you want to do, it's great. So far, everybody's cooperative."