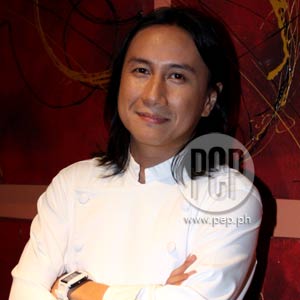 IMAGE 0
---
Chef Rolando Laudico's success in the local culinary scene is quite evident in all his TV commercials.
And being one of the judges in the upcoming Junior MasterChef is another proof that he is indeed one the best in the country.
Chef Lau, as he is fondly called , shares that he was supposed to be a doctor like his dad, but his love for cooking changed all of that.
"I thought why not do something that you really like. I quit college to work in a restaurant without my parents knowing. I never looked back after that," he tells PEP.ph (Philippine Entertainment Portal) in a one-on-one interview.
He adds, "I went into cooking because I can make someone happy with what I made. The reaction is immediate. It makes me happy when I see someone happy with what I did."
According to him, an aspiring chef need not go to a culinary school to learn how to cook. He claims that he learned a lot from reading and experimenting.
ADVERTISEMENT - CONTINUE READING BELOW
"Experiment by yourself. If you want to learn how to cook, just cook. Sometimes you will make mistakes. The best cooks are not the ones who did not make mistakes. The best cooks made billions of mistakes and learned from them," he says.
JUNIOR MASTERCHEF. This father of two is excited to be a judge in the local franchise of the said Kapamilya show.
Junior MasterChef will give Chef Lau the chance to work with kids who share his passion for cooking, and it'll be like reliving his childhood.
The man, whose professional experience in the kitchen began when he was 24, first learned how to cook at the age of seven.
He believes that cooking is an art form that promotes creativity and discipline, thus he highly recommends it for kids
Moreover, he feels that the show is going to be very inspiring, given its deeper purpose.
"It's great show because you're not only helping kids in cooking. You help them also in their situation. Some kids are not well off. I like that part of the show. It's changing lives and making the life of the kids and their family better," says Chef Lau.
ADVERTISEMENT - CONTINUE READING BELOW