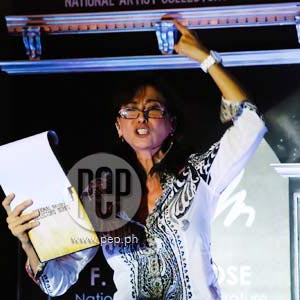 IMAGE 0
---
What happens when you integrate Philippine arts and culture with fashion?
Freeway calls it Fashionalism.
It is the clothing brand's effort to promote local arts and literature and bridge contemporary style and the classics in a collection called National Artist Collectors' Series.
Since 2009, fashionistas have been wearing and getting themselves acquainted with the works of National Artists Nick Joaquin (Literature), Ang Kiukok (Visual Arts), Jose Garcia Villa (Literature), and Ramon Valera (Fashion Design).
Last May 31, 2011, the clothing brand paid homage to writer, novelist, and journalist F. Sionil Jose, whose works have been translated into 22 languages.
A TERTULIA. To launch the latest Freeway Art, a tertulia was held at The Row in Greenbelt 5, where respected character actress Cherie Gil and multi-talented vocalist-writer-activist Lourd de Veyra read passages from F. Sionil Jose's literary pieces, such as Tree and Ermita, which are both part of the Rosales saga.
The highlight, of course, was the no-holds-barred question-and-answer portion with the National Artist himself.
ADVERTISEMENT - CONTINUE READING BELOW
Lisa Macuja-Elizalde, who served as the night's host, launched the first question: "Who do you think should be, or not be, a national artist?"
F. Sionil Jose's candid reaction was a burst of laughter. He said artists should be defined not only "by what they write and what they do, but also by the way they live."
Next he was asked to name his favorite president.
The 86-year-old tubong Pangasinense said: "To me, the best president is Ramon Magsaysay."
As to the question, "What do you think of President Benigno Aquino III?" his answer was, "I don't think about it."
"Manong," as company owner Sheree Roxas Gotuaco fondly calls him, is still sharp and full of humor. And despite his stature, Sheree says he's "down to earth, adorable, and witty." She says she enjoyed their sessions at the writer's Solidaridad book shop in Ermita.
THE COLLECTION. Tees in trendy silhouettes, tailored woven tops, dresses and accessories, inspired by F. Sionil Jose's literary pieces, are now available.
ADVERTISEMENT - CONTINUE READING BELOW
How inspired is the collection?
"But what kind of man is he who will suffer for truth, for justice, when all the world knows that it is the evil and the grasping who succeed, who flourish, whose tables are laden, whose houses are palaces?"
It's not just a fashion statement, it's F. Sionil Jose.
All items are packaged with a swing tag of the author's bio and authenticity stamp printed on the merchandise.