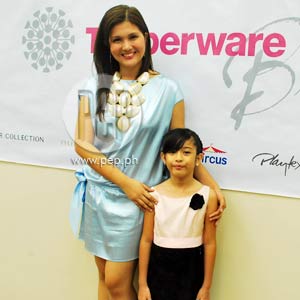 IMAGE 0
---
Maturity is when your concern goes beyond yourself. This holds true for actress and mother Dimples Romana.
After the success of primetime TV drama remake Mara Clara—where she played Alvira Del Valle, the mom of Mara (Kathryn Bernardo)—she's now enjoying her real-life role as a mother to seven-year-old Cal.
Add to this is a Babycare Plus endorsement, which was formalized on June 16, Thursday, at Tupperware Brands office along Pasong Tamo Extension, Makati City.
In an interview with PEP.ph (Philippine Entertainment Portal), she says about her latest project, "Of course, I'm very honored. I feel very, very excited when we found out about it, I was really ecstatic.
"Plus I'm doing it with my real daughter Cal, so I'm very excited to do something very fun with her, something that she really likes to do."
The 26-year-old mom also sees it as an opportunity for her unica hija to overcome her shyness.
"She's a bit shy so, I'd like for her to get really exposed with people so she'll get to interact. Mag-isa siya, so, it's harder," says Dimples.
The Kapamilya actress can talk about Cal the whole day. Smiling, she continues, "She has eight dogs. She's so, she's very nurturing, the thing is, she's nurturing to animals. So kailangan matuto siya talagang to deal with people and this is the perfect venue for Cal to be able to see different people all the time."
DIMPLES AS A MOM. Quality time is important for the former commercial model.
She enumerates the things her daughter enjoys doing.
"Cal likes doing art. She likes doing Math. She's medyo nerdy. She's really cute. She's one of a kind, like she'd rather go to, ahm...and this is no joke. She'd rather go to Fully Booked, any store, book sale or any store that she can see books in.
ADVERTISEMENT - CONTINUE READING BELOW
"She'd be more excited to find a book than a toy. She likes toys that are parang mga Sylvanian characters, 'yong parang mga collectibles, ayan. She has a habit of collecting things.
(Sylvanian Families features walking and talking animals, plus houses and charming toys that promote family ties.)
"So far, I can see that she likes school a lot. She was very excited for the first day of school. She's into cheerleading. She's also done MTAP [a quiz bee organized by Math Teachers Association of the Philippines], Math advanced classes for their school. She likes Science, too."
And Dimples and her husband are supportive parents, who encourage Cal to "explore what she likes to do."
"We like to do different things. I'm not home most of the time so Boyet, my husband, is really very supportive. He's very hands on with Cal.
"So, si Cal tuloy, like, [he] wants her to be able to get into different things—she's done figure skating on ice, she's done swimming.
"Then we do finger paints, 'yong parang makalat. Her dad doesn't like it so much dahil kakalat sa bahay but we like doing things like that. Plus, we go and have the dogs groomed or she would walk the dogs."
They also have kitchen activities together.
"We love to bake. We bake chocolate, peanut butter chocolate cookies. Kasi now, there's Reeses, 'yong the peanut butter chips they have it na now...Plus we do sugarfree banana muffins, so she makes, then she would put sugar-free icing on top.
"I like to buy stuff from Gourmet, like Gourdos. I like to buy stuff like 'yong mga sprinkles na iba-ibang colors, so Cal and her friends, they come to the house, we bake together. I usually teach them the really simple ones, so that's what we do there."
ADVERTISEMENT - CONTINUE READING BELOW
Her parenting style: "I'm strict but, at the same time, I'm very lenient."
Moving on, "My principle with parenthood, gusto ko si Cal would be able to really maximize her skills, really find out what she likes."
SHOWBIZ PLANS FOR CAL? When asked if being an actress figures in Cal's what-I-want-to-be-when-I-grow-up list, Dimples says it's presently the farthest thing from her daughter's mind.
"The other day she was telling me...I think kasi unica hija nga, so she speaks, you know, different things, sabi niya, "Mom you know, I think if I were a scientist I'd build an invention that would turn people into animals.' So may mga ganyan na siya...so you can imagine she's very innovative in terms of ideas.
"You know, every time I ask her if she wants to be an actress, she says no. She would say, 'I'd only do commercials, kasi at least that one medyo saglit, saglit lang.' Which is actually very smart...
"She doesn't grow tired. She's not forced to do anything that she doesn't want to do. It's all just fun, fun, fun."
"And now, I think so far, she wants to be, kasi paiba-iba, di ba? Pero I think she wants to be a scientist for now."
But as she said earlier, things may change. From time to time, she gets to give Cal an idea about her line of work.
Dimples related, "I make reviewers like Math, Science, Sibika, and Filipino. She speaks very good Tagalog, by the way, now na lang natuto na. Pero I do that on the back of my old script, so she's very exposed to my job, she knows it, kaya 'yon."
DIMPLES AS A WIFE. There's no doubt that Dimples enjoys motherhood immensely. Thanks to her husband, who's "very lenient with me," says Dimples. She further describes Boyet as "very, very good to me.
ADVERTISEMENT - CONTINUE READING BELOW
"I don't know how to express how much understanding, patient my husband has given to me. He's always been very supportive in terms of what I want to do."
Despite rigid schedule of tapings, Dimples appreciates that her husband finds ways to have bonding moments with the family.
"I'm pretty young, I'm 26, so siyempre I have so many things I wanna do. Plus my work, my career now is doing very well, so I'm rarely home.
"What he does, he brings Cal, after they do her homeworks. And this is not summer, ha...They go to my shoot and come back na lang at night."
TIPS FOR MOMS. Dimples gives helpful tips for working moms like her.
"Women, they want to be empowered also kasi now that's a modern reality of our society, that women really work also, puwedeng part time, puwede ring at home, puwede ring to get to work online," she began.
But, "let's not forget that we are mothers first and foremost. So, more than a woman, you've already given your life to your children. So let's remember the little things."
Being a co-host in ABS-CBN's Kabuhayan Swak na Swak, she is aware of the fact that most Pinays are now juggling family and career.
So, here's another piece of advice from Dimples: "Don't forget—never bring the work at home. That's one thing, e, kasi sometimes we bring the feeling of being stressed at home, that's not good for the children."