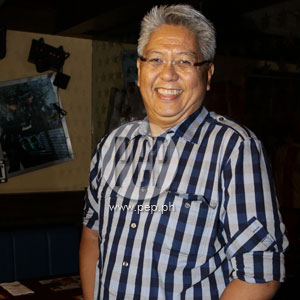 IMAGE 0
---
"Wala pang nagtanong sa 'kin niyan kaya hindi ko alam kung anong sagot diyan," Mr. Ryan Cayabyab quipped when asked about his favorites in music.
The Maestro, who's also known as Mr. C, is considered one of the country's greatest music composers. He has worked with different artists in symphony orchestras, ballet, popular music, television specials, and movie films.
Last June 17, at his upcoming concert's press conference, he eventually mentioned his top-of-mind names.
But one question stumped him.
"Female singer? Ahm…mahirap 'ata 'yan, ha. Wala pang nagtanong sa 'kin niyan. Next muna, isipin ko."
Then who is his favorite male singer?
Again he avoided the question, "Male singer? Naku, paano ba ito? Hindi ko rin alam."
Laughing, Mr. C suggested that we skip the first two questions, "Mamaya na 'yong male and female singers. Mag-iisip muna ako."
While eating his sundae ice cream, he instantly named his favorite collaboration.
"With the collaboration, I think it would be Burt Bacharach and Hal David," he said.
Lyricist Hal David and composer Burt Bacharach began their collaboration in 1957, and became the men behind the greatest hits of Dionne Warwick, who became popular worldwide with hits "Make It Easy On Yourself," "Anyone Who Had A Heart," "Walk on By," to name a few.
Still enjoying his sundae, he hummed his favorite song.
"My favorite song? Ahm…I think it would be "Kailan," which became the first hit of the group he formed, Smokey Mountain, back in the '90s.
Moving on, "With the band, of course, it would be The Beatles," he said.
And after another scoop, "I like soul and R & B, when it comes to music genre."
We went back to the first two questions. He thought hard while savoring his ice cream.
Finally, "With male singer, it would be Basil Valdez," who popularized the hits "You," "Kastilyong Buhangin," "Ngayon at Kailanman," among others.
ADVERTISEMENT - CONTINUE READING BELOW
The Maestro resumed, "With female singer? Ang hirap talaga. Baka may magalit.
"Para safe, kasi retired na siya, Celeste Legazpi. Besides we've worked in the past."