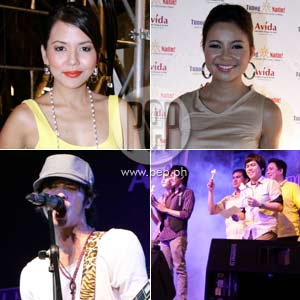 IMAGE 0
---
Filipino singers and performers converged at the Ayala Triangle Gardens last June 15 for the first-leg of the Tunog Natin! concert series—a free concert event spearheaded by real estate developer Avida Land Corporation.
The live musical affair was part of the Colors of Freedom celebration, which consists of different art and cultural-related events held in Makati City in observance of the country's Independence Day.
It also coincides with the 150th birthday of our national hero, Dr. Jose Rizal, whose martyrdom helped further ignite the desire of Filipinos to achieve independence from Spanish rule.
But more than just being a big and fun celebration, Tunog Natin! aims to promote Original Pilipino Music (OPM) and local artists back to the public's consciousness.
The campaign to support the local music industry stems from the observation that many of today's listeners are more into foreign tunes and acts, which in turn affects the livelihood and creativity of our talented homegrown artists.
Filipino artists who performed at the June 15 Tunog Natin! event were legendary singer-songwriter Jim Paredes, pop-rock band True Faith, bossa nova artist Sitti, rock bands Callalily, 6cyclemind and Pedicab, acoustic artists Princess Velasco, Aries Sales and Sabrina, singer-composer Myrus, the boy group 1:43, and R&B singer Arnee Hidalgo.
Inviting various artists representing diverse genres falls in line with the project's objective, and that is to showcase the rich talent of Filipino acts.
"We can always try to come up with more original songs. We can also do collaborations with fellow Filipino artists, mixing genres whether it's kundiman with pop or others—there's really so much that we can do to help and support our own industry," Sitti told PEP.ph (Philippine Entertainment Portal).
Staging events like Tunog Natin! is a big boost to the artists and the entire industry because it brings the music closer to the public, added Sitti.
ADVERTISEMENT - CONTINUE READING BELOW
"OPM represents the best music that we can share with one another and offer the rest of the world. Life for a true-blue Pinoy is simply unimaginable without it. Over the years, since the 1980s, OPM has evolved with our culture and passed on to many generations.
"It is a source of pride as well and a source of inspiration for Filipinos. Those of us who have a passionate and abiding love for OPM are welcome to Tunog Natin!" said Avida Land Corporation Marketing Manager, Tess Tatco, in a press statement.
True to the event's theme, the artists that evening performed original songs, along with covers of Filipino tunes, like 6cyclemind's rendition of the Eraserheads "Alapaap" and Arnee Hildalgo's version of Francis Magalona's "Cold Summer Nights."
As a show of unity, most of the invited artists went on stage to light a candle, which symbolized hope and faith that the local music industry will once again flourish with the support, of course, of the Filipino public.