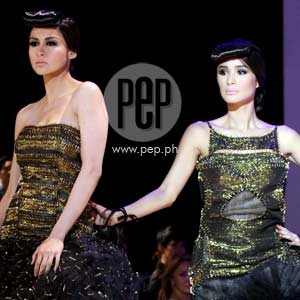 IMAGE 0
---
With the "gag order" reportedly issued by the producers of the Temptation Island,Marian Rivera and Heart Evangelista initially chose the path of silence.
The public was given the impression that everything was under control, and that the two ladies had already fixed their minor tiff in Ilocos Norte, where the film was shot.
But where there's smoke, there's fire.
The minor tiff turned out to be an upsetting incident that took place at the airport on June 13. Reports claimed that Heart's mom Cecile Ongpauco and "five" bodyguards fanned the flames.
Marian's fans even went as far as saying that their idol was reduced to pieces by Mrs. Ongpauco's harsh words.
The Amaya star confirmed the presence of the guards, but did not elaborate on the details.
For the Dwarfina star's part, she tweeted (published as is), "FYI who ever said my mom screamed at marian pls come forward.my mom didnt even exchange a single glance with her."
Lovi Poe, who was named as the witness, decided not to meddle. "If I react, what's gonna happen after that? It's just like opening Pandora's box," said the daughter of the late Fernando Poe Jr. in an interview.
Now, the latest update on the issue: Heart's Twitter account got allegedly hacked to lambast Marian last July 6.
Both ladies had stopped talking about it since then. But their fans are still on standby mode.
Should Heart decide to air her version when she returns to the country, then the issue will be far from over.
And whose side are you on?
Out of the 2,469 PEPsters who participated in the poll last June 16—61.89% clicked Team Marian, while 22.84% went to Team Heart. The rest, 15.27%, were thinking that the entire hubbub is just a "gimmick" for the movie.
It's hard to tell whether the result is an indication of Marian's popularity or the public's real pulse on the issue.
ADVERTISEMENT - CONTINUE READING BELOW
If it's the latter, then one of them has to do something about changing the people's changing perception about her.
It's early to tell whether this will have an effect on their respective careers or.
One sure thing, Pinoys would always want the "underdog" to win in the end.