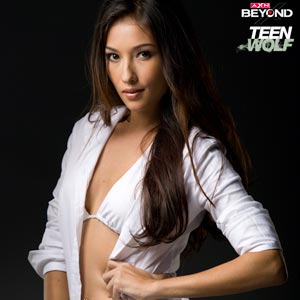 IMAGE 0
---
Strong willed yet undeniably gorgeous—that's how Solenn Heussaff appeared to the people when she joined the Survivor Philippines: Celebrity Edition in 2010.
The tall, morena beauty was able to make it as one of the top three castaways, but it was Akihiro Sato who won the title "Sole Survivor."
It didn't end there for Solenn. In December 2010, when the show ended, she signed an album contract with MCA Universal Philippines.
She signed a movie contract with Regal Films, too, and a television contract with GMA Network and Artist Center.
PEP.ph (Philippine Entertainment Portal) was able to interview Solenn during the press launching of AXN Beyond's new TV series Teen Wolf, where she was appointed ambassador of the said show.
Unlike other celebrities, Solenn says showbiz didn't change her life. She enjoys it, as much as she enjoyed her life before.
The only thing that has changed, as she said, is how she manages her time, and finding time to learn the Filipino national language.
"I'm the same, I have the same friends and my parents aren't different towards me.
"But it's just I've left time for my self, and I'm not really in control of my schedule. Unlike before, designers and make up artists like get booked and go a week somewhere abroad or something like that.
"Right now it's like I nod to anything, but for me it's a great learning experience. I learn my language— my mother language. I must be fluent at it for I lived up here my whole life, but yeah I'm learning to learn that now."
THE CHANGES. Though she kept herself intact, there are just some things that celebrities couldn't keep as long as they're in this industry.
As common as it is, privacy is the first thing that these stars lose once they step into the limelight.
ADVERTISEMENT - CONTINUE READING BELOW
The same goes for Solenn. Privacy is the first thing she mentioned when she was asked about the biggest change she has undergone in showbiz.
"Privacy [is] number one," she says laughing.
"Number two, I'm someone who really likes to speak my mind out. I just have to edit some of my thoughts sometimes, but I stand up on what I feel like saying."
Though she enjoys the ramp, the cameras, the limelight and everything else that deals with showbiz, she still misses her life before.
Being in control of everything, then suddenly becoming dependent on others, is a drastic change for her. Yet she holds her ground, learns to compromise with these changes, and be in her comfortable spot.
"For a lot in people in showbiz, they actually, they all work hard to be in that, or all they wanted to be in their life, or they were born in to it.," she explained.
"But I've always been super free with my time, with what I want to do, what I want to say without being judged too much.
"So I just have to compromise sometimes, but I'm learning to end up in a spot where I'm comfortable. And my friends are always there to guide me."
THE WILD SIDE. As the ambassador of this new TV series that deals with werewolves, she was asked to bring out the wild side of her self.
For Solenn, this is no big effort for she sees herself naturally wild. But she means wild in a good way.
But now that she's in showbiz, she needs to further refine her being "wild."
"I think most of my being is wild," she blurted.
"It's a good wild, not like the bad wild, you know what I mean. It's just now I'm more demure because I entered show business.
ADVERTISEMENT - CONTINUE READING BELOW
"But I'm really wild at heart, and even with my friends and family I'm always the one doing crazy things in public just to make other people laugh, or to make fun of myself. I think life is too short to be serious— although you have to be serious, I'm not saying you shouldn't be serious.
"But yeah, I'm really, always, even with my group [of friends], I'm like the crazy one in the group. I'm always game for anything you suggest, I'm not picky, [and] I'm really 'ok whatever!' I go with the flow."
But the craziest thing she has done so far?
"I pretended a fight in a restaurant with a friend!" she recalled laughing.
"I think that's quite crazy because if you were there, everyone was like 'what the hell was that?' [But] I wouldn't do that here because [that would be] another story."
Sure, the celeb is ready to try on anything. But, of course, she sets her own limits.
"Of course [I wouldn't do] those X-rated things, and things that will degrade my self as a human being.
"But I try— I'm always game to try anything. I didn't have someone to say, 'oh, hey let's do this,' and I would go, hmm, you know I wouldn't do that. I'm always game."
But above all, Solenn's wildest dream is to live a free spirited life, while traveling the world.
"[I like] to be able to travel around the world every year, like three months, and not count the taxes that I have to pay.
"[To] live a free spirited life, doing what I want, but still working."