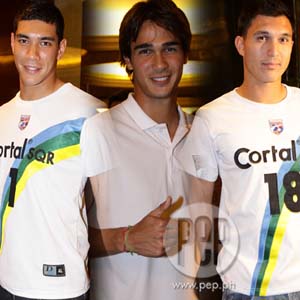 IMAGE 0
---
There's no denying that in terms of popularity, football is slowly overtaking other sports in the country.
Thanks to team Azkals—which was coined from the word "askal," a Tagalog contraction of the canine mixed breed asong kalye.
Phil Younghusband is perhaps the most popular of them all. Aside from being linked with actress Angel Locsin, he was already visible in showbiz before they met.
His older brother James also tried his hand at modeling, but he seems to be camera-shy.
In an interview held prior to their big win against Sri Lanka, James admitted, "I guess you can say I'm more conservative."
But he added that off-camera, he's not reserved at all, "especially when I'm with people I'm comfortable with," he smiled.
His aggressive self becomes evident whenever he's playing.
"Just focus on the goal. You forget about everything," the 24-year-old football star said.
He encourages Pinoys to play football for the sport.
"I think the Filipinos can develop the sport. I'm just happy that football has become really popular," James told PEP.ph (Philippine Entertainment Portal).
And how does he find the attention he and his teammates have been getting from the girls?
"It's very flattering," the right-winger Azkal answered. "It gives me the extra motivation to be good at football."
But sorry, ladies, his "ideal girl," is "a girl named Fiona Faulkner," an 18-year-old Filipino-British who also "loves football."
And before we could ask another question, he cut in, "She's my girlfriend."
NATE BURKEY. Another looker in the group is Nate, a Filipino-American striker.
He's been with the team for only a few months, but the football fans already know him as the guy who made the "first goal in a World Cup qualifier in 10 years."
The 26-year-old football player seemed unaffected by the feat.
"I just did what my coach told me," he said.
ADVERTISEMENT - CONTINUE READING BELOW
He was a bit surprised though by their celebrity status.
"It was difficult...surprising," he remarked, carefully choosing his words. "But I will always stay humble and keep my feet on the ground. Knowing what's important is important."
Lastly, is he taken just like James?
"Yes. She's in the U.S.," he replied.
NEIL ETHERIDGE. The now-controversial Neil was the most chatty among the three heartthrobs.
We asked, "Would you mind if we talk about Michelle Madrigal?"
Smiling, he said, "I don't mind this question...we are friends. Yeah, me and Mitch are friends. We're both in the same friendship groups."
Does he see himself joining showbiz?
"No," he quickly answered. "I will keep my path on football. Show business is not really for me right now."
And what is his lovelife status?
His quick reply: "Of course, I am single."
He's looking for a lady with "great personality" and who can handle a "great conversation."
Neil added, "She has to understand that I travel a lot around the world. Somebody who trusts me and somebody very humble...."
But sorry to burst the bubble of his Pinay fans, since he usually leaves the country, he told PEP, "I don't think relationship is inevitable."
Isn't he jealous of the Younghusbands' popularity?
"I'd like to say I don't think so," he answered seriously, before exclaiming, "No, I'm joking! Of course, I mean that's okay. I come to do a job for the Filipinos. In my heart, it's to play for the country.
"We're very close friends. They've got beautiful girlfriends. They've got beautiful houses...but we're friends."
Lastly, what's his assessment of the Azkals journey towards the World Cup?
"We're just taking things step by step. The World Cup is a long, long way still. But we've got stronger players. We're always looking at ways to improve. We're gonna be playing over the years and hope we compete in bigger events," ended the good-looking goalkeeper.
ADVERTISEMENT - CONTINUE READING BELOW