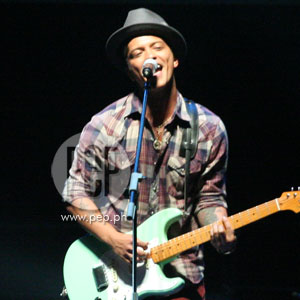 IMAGE 0
---
The streets of Cubao on a Friday night are typically filled with people walking to their destinations.
Some are going shopping; others are meeting friends for dinner or coffee in or around Gateway Mall. Last night, April 8, 2011, was no exception.
However, many people found their way to Araneta Coliseum, slowly filling up the venue's 16,500 seats, for the Bruno Mars concert.
Born Peter Gene Hernandez to a Filipina mom and a Puerto Rican dad in Honolulu, Hawaii, Bruno pursued a musical career after graduating from high school.
At first, he was producing songs for the production outfit, The Smeezingtons. His vocal talent was recognized in the song, "Nothin' on You," the debut single from American rapper B.o.B. featuring Bruno Mars.
His popularity skyrocketed after another successful collaboration, this time with Travie McCoy in the song "Billionaire."
Deciding on a solo career proved fruitful for Bruno as his songs "Grenade" and "Just The Way You Are" were instant hits.
He was nominated for seven Grammys at the 53rd Grammy Awards, winning Best Male Pop Vocal Performance for "Just the Way You Are."
BACK TO THE CONCERT. Friday night, Araneta Coliseum was packed. To warm up the audience, singer Juris serenaded the crowd with her single, "Sa 'Yo Lamang."
It was time for the crowd to power up their legs as Hollywood actor (Power Rangers, One Tree Hill) and dancer Michael Copon and the Philippine All-Stars did an energetic dance number.
Cheers turned into a roar when Michael asked, "Are you ready for Bruno Mars?"
It took another 20 minutes before Bruno appeared, but he was worth the wait.
Running up the stage with his band members, Bruno Mars sang "Other Side" and the crowd roared even louder.
Following it up with "Top Of The World," he and his band danced to the beat and did some wicked hip-pumping in the crowd's direction.
ADVERTISEMENT - CONTINUE READING BELOW
The energy did not stop there; he segued to "Billionaire," a song recognized by everyone in the Big Dome. Everyone stood up and sang along with Bruno.
To calm the audience a bit, he sang "Slow Down" and "Our First Time." But the mushy stuff didn't last long as he pumped up the crowd again with his rendition of Michael Jackson's "Billy Jean," strummed with Nirvana's "Smells Like Teen Spirit."
Bruno paid tribute to couples in the audience singing "Marry You," "Lazy Song" "Count On Me," and "Liquor Store." He even coaxed couples to kiss!
In his rendition of "Nothin' On You," fans sang along.
NO INTERMISSION. Except for an occasional sip of water, Bruno Mars sang and danced nonstop.
When he did "Grenade," the crowd exploded with cheers as his melodic and unfaltering voice touched everyone — male and female.
In his finale, "Just The Way You Are," the crowd at Araneta Coliseum waved cellphone lights as they sang along with Bruno Mars. It was a sight to behold.
Looking at the appreciative crowd, Bruno thanked everyone for coming to his concert. He pointed to a section in the audience and said, "My family's here! My grandma, sister, and mom!"
He added, "I'm very, very proud to say I'm a Filipino!"
He waved a few more times and then he and his band left the stage.
Of course, the audience wouldn't have that. Thunderous chants of "We want more! We want more!" literally shook the place.
Not to disappoint, Bruno re-appeared and did one last fantastic dance number with his band going all out on the instrumentals. With cheers dying down, it was time to get back to Earth after a fantastic night with Mars.