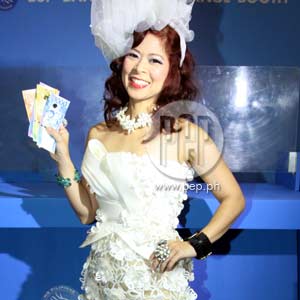 IMAGE 0
---
You might be surprised to know that the pixie Tessa Prieto-Valdez has already seen 48 summers.
She doesn't look it, but the social butterfly seems to have found the fountain of youth. Just look at her quirky fashion choices and vivacious appeal.
We met the bubbly Tessa at the "NO to Fakes" campaign launch by the Bangko Sentral ng Pilipinas and Hewlett-Packard (HP) last July 20 at the Trinoma Activity Center.
She's one of the campaign ambassadors along with philanthropist Bam Aquino, Chuvaness blog writer Cecile Zamora-Van Straten, celebrity mom Pia Magalona and son Elmo who all share the advocacy of supporting only original goods and staying away from counterfeit products.
Tessa says about her role in the campaign, "I'm here more on the concept of being original and sticking to real stuff instead of getting the fakes wherein it's like a money issue.
"Normally, you get the fakes, but in the long run, we wanna sort of emphasize that by getting fake stuff, you're compromising quality and quantity. In the end, you're on the losing end."
Style-wise, Tessa says buying fake goods, particularly cosmetics—which is an essential part of one's overall look—can be very harmful not just for one's budget, but most especially on one's health.
"Fakes for makeup? That's really, really dangerous," states Tessa.
Counterfeit cosmetics abound in the market lately—in bazaars, online stores and even in malls. Her advice is to be aware of the items you're buying because looks can be deceiving.
"You know how they have even the labels are already saying Shu Uemura or MAC? There are a lot of fake makeups."
ADVERTISEMENT - CONTINUE READING BELOW
You may be spending less, she says, "But in the end, you're the one who gets [fooled].
"[Particularly] your skin. I mean, these are toxic products. These are the stuff that touch your skin so it's really dangerous.
"Actually, you know, it's more of a safety issue—a health issue—that you should really spot a fake. But sometimes you can't even tell 'cause they're so close to [the original]."
A tip when buying cosmetics, says Tessa, is to purchase only the trusted brands. But if you're fashionista on a budget, there's always an option to go for cheaper yet original makes.
"[Faking] is different from copying, that's what I was saying.
"Like, the way I dress is what people copy. It doesn't matter. They can copy but they can't fake it in the sense that they buy fake stuff.
"There's a big difference of copying and faking, you know. Even with your friends, like fake friends, you don't wanna have that.
"I think for clothes, maybe it's not that big an issue. But really for makeup, the budget wherein you do get it cheaper, but how much is it to go back to a derm and take out that pimple that will give you a scar forever?
"That's gonna cost you more. So just for that long term [perspective,] I think people should understand that in getting original there is a difference because you're getting quality and you're not getting compromised with the product."
BEAUTY SECRET. After giving all this advice about buying original cosmetics, we asked Tessa how, despite putting on so much makeup as part of her themed outfits, she maintains a young-looking skin at 48.
ADVERTISEMENT - CONTINUE READING BELOW
"I always say it's cleanse, tone and moisturize twice a day," she answered simply.
"I think as you get more mature, we have a lot of slowing down the process—the aging and stuff—you don't have the same amount of hormones. Everything is [depleted] na.
"So, I think you have to continuously and religiously cleanse your face because it's so toxic here, the air pollution and everything. So you gotta cleanse and tone and moisturize."
She also notes that the key to staying beautiful at any age is not by getting into all the elaborate dermatological procedures. Rather, she prefers to draw beauty from natural means.
"Altogether, I could say that it's not skin deep. I think beauty has to be a lifestyle.
"I do yoga, I do running. I do so much. I don't eat like meat products or chicken so I feel like it has to be from within.
"Maybe 10 percent is your surface, like your skin. But you are what you eat so, you know, if you have a lot of fiber inside and take a lot of supplements I think that's important," says Tessa who, aside from strictly following a meatless diet, swears by the effectiveness of health supplements.
"I take a lot of enzyme powders and shakes because we live in a society wherein we don't even have time to digest our food.
"We're so stressed. After meals, normally, we're supposed to not move or rest for an hour for food to get [digested] but no way di ba?
ADVERTISEMENT - CONTINUE READING BELOW
"So I take a lot of that and I take also all these supplements as in vitamins and all these enzymes and everything because you really have to augment whatever [you lose.]
"And I don't eat chicken or meat. Just a lot of fiber and I drink like eight or ten glasses of water everyday."
Working out also helps the body maintain good metabolism, and in effect, a healthy skin because of all the endorphins that the body produces when exercising.
On a regular basis, Tessa runs and jogs and attends Bikram Yoga classes to induce sweating and burn off excess fats in the body.
She also swears by the new celebrity fitness craze called Plana Forma, which helps tone problem areas like her tummy, arms, and thighs.