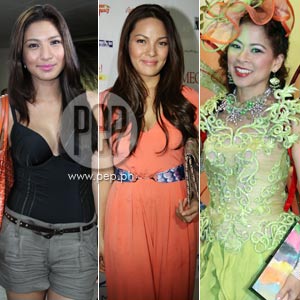 IMAGE 0
---
Who doesn't want a killer body just like those Hollywood celebrities seen photographed by the paparazzi in their bikinis?
Take for example Kelly Ripa, host of the long-running American talk show Live with Regis and Kelly.
Her body is well-toned all over, as if she doesn't have a single ounce of fat.
Ripa's secret, as she tells Fitness magazine, is the workout regimen Physique 57.
She calls it a "sculpting class" which has helped "transform my body in ways I never thought possible."
Unlike other fitness programs, the 55-minute exercise targets the obliques (muscles in the abdominal area) and glutes (the butt and hip areas), which are common problem areas even in people who observe a strict diet and perform regular cardio workouts.
Aside from Ripa, other Hollywood actors like Reese Witherspoon, Sarah Jessica Parker, Zooey Deschanel, Emmy Rossum and Matthew McConaughey (yes, even males are into it as well) are also fans of the program.
In the Philippines, Physique 57 has extended its firm arms through Plana Forma, a similar program that is a combination of dance, yoga and pilates.
Local celebrities like Tessa Prieto-Valdez, Bubbles Paraiso and Plana Forma ambassador KC Concepcion all swear by this new technique.
During a short chat with Tessa at the "NO to Fakes" campaign launch last July 20 in Trinoma, she said, "It's really wonderful. It's really effective. It's great.
"It's just a one hour workout and what happens is, you know how women have the permanent puson? It works out by targeting that area.
ADVERTISEMENT - CONTINUE READING BELOW
"And [also] the underarm and thighs—areas that no matter how much you work out doesn't really get targeted because it's like a muscle inside you."
Tessa also regularly runs and attends Bikram yoga classes, which have helped her maintain her body's stamina and flexibility.
However, they never really waved the inches off her petite frame.
"You never work that muscle group when you're doing aerobic exercise.
"Even if I do running, I still have that. Unless you do surgery, that's the only way [to remove it.]
"But I'm scared of getting the knife so I try to just workout na lang and in Plana Forma, it attacks all these areas so that's my new thing."
Just like Tessa, model-turned-actress Bubbles Paraiso is also a fitness buff.
In an exclusive conversation with PEP (Philippine Entertainment Portal) via e-mail, the actress who recently starred in GMA7's Captain Barbell said, "I've always been into fitness so I'm always on the lookout for new fitness activities.
"I've tried 360 circuit training, CrossFit, TRX, pole dancing, et cetera."
She's also currently into Muay Thai, boxing and a workout regimen called Insanity.
But since discovering this new exercise, which she describes as "a whole body exercise [that targets the] arms, shoulders, thighs, butt and abs," Bubbles says she's been hooked.
"Plana Forma is different from all the exercises I've done before because it's a mix of yoga, pilates and dance all in 55 minutes," she tells us.
"It's very intense but it doesn't run on momentum, it's more based on muscle isolation and small movements so you really feel the burn.
ADVERTISEMENT - CONTINUE READING BELOW
"Then, we do yoga stretches in between and after so that the muscles won't be so bulky and we develop our flexibility."
Bubbles regularly attends classes 3-4 times a week and "when I only get to 1-2 times, my body looks for it," she says.
KC Concepcion, on the other hand, started doing the Physique 57 exercise when she stayed briefly in New York.
In her classes, she would always see Hollywood actress Reese Witherspoon and admire her slender physique despite giving birth to two kids.
The actress, who will soon appear in the upcoming ABS-CBN series Alta, was only happy to know that her good friend from high school, Iya Guingona-Lagdameo, and her family brought the program to the Philippines.
During the launch last July 21 at the Plana Forma studio in The Fort, KC proudly showed off the result of her "4x4 Challenge."
Four weeks prior to the launch, KC consistently attended 16 classes to which she credits her 16 pounds weight loss.
"It doesn't only make you lose weight, but also the inches," she says of how her body has benefited from the exercise.
Like Tessa and Bubbles before her, KC agrees that this new fitness program does wonders for the body.
Not only does it make your body stronger and sexier, it also keeps you healthy inside and out.