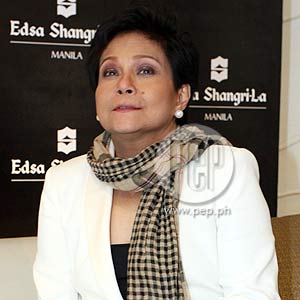 IMAGE 0
---
The return of Nora Aunor was greeted with much hoopla...and hospitality.
At her first press conference, which was hosted by TV5, it would seem the editors and reporters handled her with kid gloves, just dwelling on the positive topics.
She made a request, "Sana huwag na nating balikan yung nakaraan," and a straightforward promise, "Nagbago na po ako."
And what's the public's response?
The Noranians have come alive again, reminiscing the glory days of their idol, and looking forward to her projects.
Her rivalry with Vilma Santos is also being revived. Where there's an item about Ate Guy (Nora's nickname), expect skeptical remarks from the Vilmanians.
The younger generation has surely gotten curious about this lady whose charisma was said to be legendary at the height of her career.
Indeed, Nora's comeback has brought excitement to local Tinseltown.
About 77.37% of the PEPsters are on a "wait-and-see" mode, while 22.63% believe that she will stick to her commitment this time.
And the pulse: She deserves a second chance!
Despite her flawed life, just like most humans, the Superstar is famous for her acting genius, both locally and internationally. As she herself declares, "Wala na akong dapat patunayan."
That is, except for her promise not to disappoint.