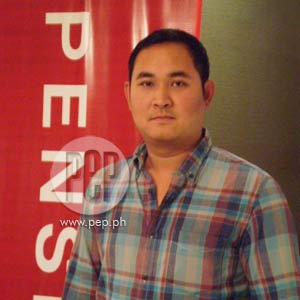 IMAGE 0
---
After his success in New York for winning the T-shirt designing contest sponsored by Supima, Robin Tomas will introduce his new designs exclusively through the clothing brand Penshoppe.
Last Monday, August 15, PEP.ph (Philippine Entertainment Portal) and other media outfits were invited to Dusit Hotel Manila, in Makati City, for the formal signing of the contract.
Alex Mendoza, the brand director, said that this collaboration is a way to "bring in New York flavor in their brand."
"Robin and I agreed that Robin will create a capsule collection for Penshoppe, which will bring in his New York flavor in our brand.
"It will also continue his winning design that he had for the Supima, Bloomingdale competition."
In addition, Robin said that this is his way of "showcasing" the style which started his success in New York.
"I think it's an exciting collaboration to be able to showcase specially that winning T-shirt that I had in Bloomingdale for the Filipino market.
"With Penshoppe, I think it's a great way to offer the design, and I'll be using this winning design that's in New York as the starting point of the collection of T-shirts.
"But we'll be doing more, like evolve from the T-shirts, and then it will be offered to both men and women.
"So, it's gonna be fun, edgy, comfortable, exciting collections."
WORKING TOGETHER. The friendship that Alex and Robin started many years ago became a way for this collaboration to happen.
How did the idea really come about?
"Well, because we're really in touch because we've been really known each other for a long time. We're so happy of what he did in the Supima competition, and he wanted to bring it in the Philippines," said Alex.
ADVERTISEMENT - CONTINUE READING BELOW
"Of course, on a larger scale, people will be able to enjoy it. And since it was a T-shirt competition, I guess what's better way to partner than to a brand that was built on T-shirts like Penshoppe."
The designs will be reserved until late January 2012 for the spring collection of the brand. They are targeting around eight designs from which clients could choose.
THE DESIGN. As a Filipino who studied in New York, Robin Tomas's fashion style is a mixture of both local and American cultures.
He describes his designs for the T-shirts as "global".
"I think it's a very global way of approach, approaching design," described Robin.
"I say, the Filipino market is ready, has been ready, and I think it's... I don't have to change a whole lot of my design process. Because I think it's very, the world is small, everyone can explore. So, its gonna be insane, its gonna be global."
He also mentioned that his T-shirt line does not cater to any particular age group.
"Mommies, daddies, yes definitely!" he exclaimed about his potential market.
"I think it will have something for everyone. I wanna be able to infuse attitude, comfort, and great quality because I'm aware of what the market is looking for."
Here's what people can expect, says Robin. "It's not edgy, but when someone wears it, it's more edgy because it will come out of the wear."