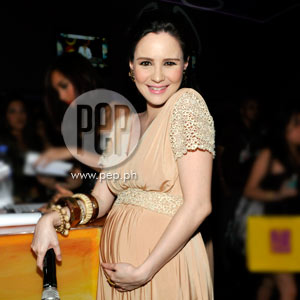 IMAGE 0
---
"Sana maging kasing ganda [kita] pag nagbuntis ulit ako," said Angel Aquino to her very pregnant co-host, Cheska Garcia-Kramer, who was blooming at the third Us Girls August awards held last August 18 at the Amber Lounge at The Fort.
Cheska, who is mom to two-year-old Clair Kendra, is five months pregnant with her second child. Her husband is Doug Kramer.
PEP.ph (Philippine Entertainment Portal) spoke with Cheska backstage where she gave us an update on her pregnancy.
"Well it's my second pregnancy, so, basically I've already gone through this before," she said, happy to have another angel on the way.
"Okay naman. I'm able to adjust and with Us Girls naman, it's not as hectic.
"I guess [because] they know I'm pregnant, so they don't really overload me with things to do.
"And, of course, none of those sports stuff," she said.
The 31-year-old TV host revealed she experienced some difficulty in her second pregnancy.
"I find it harder. Pero at the same time, I'm taking care of myself more.
"When I was pregnant with Kendra, everything was just so new to me. Meaning, not only did I eat for my baby, I also ate for myself and overindulged in everything.
"So, with my second baby, parang mas aware ako about what I'm eating. I also make sure that I take care of my body. I think I'm in a better disposition because at least it's not new to me anymore."
Pregnant women are known to have food cravings. Does she obsess on anything in particular?
ADVERTISEMENT - CONTINUE READING BELOW
"You know what? Nothing. With Kendra ang dami kong pinaglihian—mga tao, artista, performers, pagkain. But with my second daughter, wala.
"Basically gusto ko lang strawberries and chocolates."
KENDRA. Is her daughter Kendra prepared to be a big sister?
"My husband's such a great father... he always preps up Kendra and tells her, 'You know, you're gonna be a big sister, It's gonna be great because you're gonna have a playmate.'
"So, he makes Kendra talk to my tummy and he doesn't make her feel that there's going to be a new baby. Instead [he makes her feel] na dalawa na silang baby and they have each other to love and enjoy.
"He is so good at that. He's so good at talking to our daughter and she really listens... so I'm so blessed to have him, thank God."
And Kendra's reaction?
"Always positive. Ang galing niya [Doug] mag-talk kay Kendra—he talks to her like she's a grown up—and she really listens, ha?
"She really knows when her Papa asks her, 'So, Kendra, what are the rules?' and she enumerates them one by one.
"He's a hands-on father. Life is easier when you have a partner who's like that.
"I'm so blessed talaga. All the more now that I'm pregnant, I see and appreciate his presence."
Would Cheska allow her daughters to enter showbiz in the future?
"I don't mind. You know what? I love this industry. Maybe I don't agree with everything, but I love it.
ADVERTISEMENT - CONTINUE READING BELOW
"If you have the talent, why not? Who am I to stop my children?
"But I also want them to study and finish school. Different din, e, like when you have your JS prom, you go to soirees, iba rin yung feeling na yun, e.
"Iba rin yung feeling na [nasa showbiz ka and] you're earning your own money. I'd like them to have the best of both worlds.
"I don't mind. I won't stop them. But they have to make sure na matapos yung schooling nila."
According to Cheska, Doug is quite strict about this issue. They both agree that their kids should finish school first regardless of whether or not they will enter show business.
She revealed her secret dream for her daughter, Kendra.
"I want my daughter to be a Sarah Geronimo. [I think my daughter Kendra can be a] Sarah Geronimo because she can do everything—she can act, sing, host, and dance."
PREGNANCY RITUALS. Cheska said she takes extra care of herself during her pregnancy.
"I apply lotions on my tummy [to prevent stetch marks] and I use a body wash that has a lot of vitamin E.
"But you know, I'm not a big spender on beauty products. I like simple things. I'm not a product junkie.
"Whatever I'm used to, that's it. I use a lot of natural stuff as much as possible, so [that's how] I take care of my body. I don't really believe in expensive stuff."
Does she follow a fitness program for pregnant women?
ADVERTISEMENT - CONTINUE READING BELOW
"My child is so heavy right now that walking is such a struggle. And I'm always short of breath, so going up and down our staircase is enough exercise for me.
"When I was pregnant with Kendra, I was taking pre-natal yoga. But with this one, parang I'm a little bit nabibigatan."
She's due to give birth sometime December 13, but because she will deliver by C-section, she's choosing between December 7 or 8.
"Baka [Decemeber] 8 kasi [feast of the] Immaculate Conception."
Cheska said she is very happy with her life right now.
"I think I'm more relaxed now. I smile more, I'm more easy-going, I don't fuss about the big things anymore.
"I think I have a happier disposition and I'm more patient.
"I am content. I have a great husband, a beautiful daughter and one more on the way. What more can I ask for?"