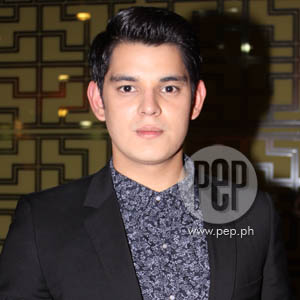 IMAGE 0
---
Richard Gutierrez aired in his side on his driver's speeding violation and the MMDA's alleged reaction when they discovered he was the driver's passenger.
First, the actor insisted that he was not rude to the officers or did he do or say anything explosive when confronted by the MMDA officers.
"Kita naman sa video na kalmado ako, na hindi naman ako galit," he said.
"Hindi naman ako nagwawala at hindi ako nagmumura."
He admitted, however, that the exchange between MMDA official Angelito Diendo and Ronnie Rivera of the MMDA No-Contact Policy irked him.
"Sir, si Richard Gutierrez po itong nahuli namin," Richard said he heard one officer say over the radio.
"Sumagot 'yong sa radio na 'Ayan, tiketan mo 'yan para matauhan at matawagan ang mga reporters mamaya.'
"As a passenger, they don't have the right to do that. MMDA does not have the right to do that.
"That's why I got mad."
Ronnie Rivera, however, denied that he wanted to call in the media.
He clarified that members of the media were present in Commonwealth Avenue to cover MMDA operations.
He added that none of the media present saw the actor.
Richard's driver Loreto Figueroa, for his part, admitted that he did not know about the overspeeding rule imposed by the MMDA.
A 60kph-maximum speed limit was imposed last January 2011. Loreto was going at 79kph.
"Kasi kung alam ko hindi ko naman gagawin iyon," he said, his voice cracking.
Asked if he knew that he was driving the Audi SUV fast, he said, "Hindi naman po."
ADVERTISEMENT - CONTINUE READING BELOW
Richard had this to say to members of the media covering the issue:
"Before they put that as a headline, siguro kunin muna nila side ko.
"This is not the first time that happened to me. It happens to me every time.
"Wala pa ang side ko, nasa headlines na agad."
SHARE THIS STORY
" data-url="https://www.pep.ph/lifestyle/25529/richard-gutierrez-to-the-media-on-his-drivers-speeding-violation-kunin-muna-nila-side-ko-" data-desc="Actor was irked by the supposed choice of words of an MMDA official." data-image="https://contents.pep.ph/images2/writeups/e8137061d.jpg">
" data-url="https://www.pep.ph/lifestyle/25529/richard-gutierrez-to-the-media-on-his-drivers-speeding-violation-kunin-muna-nila-side-ko-" data-desc="Actor was irked by the supposed choice of words of an MMDA official." data-image="https://contents.pep.ph/images2/writeups/e8137061d.jpg">
" data-url="https://www.pep.ph/lifestyle/25529/richard-gutierrez-to-the-media-on-his-drivers-speeding-violation-kunin-muna-nila-side-ko-" data-desc="Actor was irked by the supposed choice of words of an MMDA official." data-image="https://contents.pep.ph/images2/writeups/e8137061d.jpg">
SHARE THIS STORY

" data-url="https://www.pep.ph/lifestyle/25529/richard-gutierrez-to-the-media-on-his-drivers-speeding-violation-kunin-muna-nila-side-ko-" data-desc="Actor was irked by the supposed choice of words of an MMDA official." data-image="https://contents.pep.ph/images2/writeups/e8137061d.jpg">
" data-url="https://www.pep.ph/lifestyle/25529/richard-gutierrez-to-the-media-on-his-drivers-speeding-violation-kunin-muna-nila-side-ko-" data-desc="Actor was irked by the supposed choice of words of an MMDA official." data-image="https://contents.pep.ph/images2/writeups/e8137061d.jpg">
" data-url="https://www.pep.ph/lifestyle/25529/richard-gutierrez-to-the-media-on-his-drivers-speeding-violation-kunin-muna-nila-side-ko-" data-desc="Actor was irked by the supposed choice of words of an MMDA official." data-image="https://contents.pep.ph/images2/writeups/e8137061d.jpg">
" data-url="https://www.pep.ph/lifestyle/25529/richard-gutierrez-to-the-media-on-his-drivers-speeding-violation-kunin-muna-nila-side-ko-" data-desc="Actor was irked by the supposed choice of words of an MMDA official." data-image="https://contents.pep.ph/images2/writeups/e8137061d.jpg">