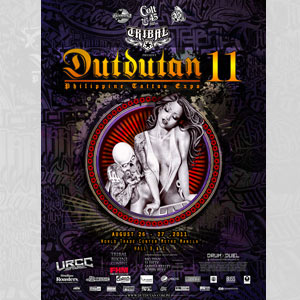 IMAGE 0
---
Dutdutan 11 Philippine Tattoo Expo will happen once again on August 26 and 27 at the World Trade Center in Pasay City.
Over the years, the event has proven to be the most successful gathering of tattoo artists, enthusiasts, newbies and even celebrities who have become fans of the age-old art.
Stars such as Robin Padilla, Mariel Rodriguez, and Dennis Trillo—all have their tattoo—have previously attended this event, and have shown their support for the growing body-art community in the Philippines.
This year, more celebrities from the entertainment and music industries are expected to arrive together with a throng of about 15,000 other ink fans.
Some of the country's premiere rock bands will provide entertainment for the crowd such as The Dawn, Kamikazee, Chicosci, General Luna, Tanya Markova, Franco, Grin Department, Sinosikat, Maplesyrup, The Breed, Valley of Chrome, and more.
Also, the famous Las Vegas strip act 51 Fifty—composed of drummer Dustin J and DJ Presto One—will be performing.
Big Tiny of Unauthorized Ink, will also make an appearance.
Besides live tattoo sessions in over 80 booths that will be stationed at the venue, other activities to watch out for include Drum Duel (a competition for amateur drummers), FHM magazine's bikini contest, Pinas Lowridaz's low-rider biking showcase, and a combat exhibition game courtesy of the URCC (Universal Reality Combat Championship).
This annual event promises a great experience as attendees get to indulge on amazing skin artworks plus other surprises starting at 1:00PM on Friday, August 26.
Get your tickets at selected Tribal boutique outlets or visit the Dutdutan website or official Facebook page for more information.
ADVERTISEMENT - CONTINUE READING BELOW
(CLICK HERE to see photos from last year's Dutdutan X.)