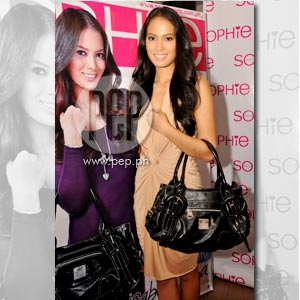 IMAGE 0
---
Last August 24 at the Sophie Paris showroom in Mandaluyong, model and Manny Many Prizes co-host Isabelle Daza was formally introduced to the media as the French direct selling company's image model.
Isabelle was very proud to be personally approached by the company's owners and managers to represent their wide array of French-designed bags.
PEP.ph (Philippine Entertainment Portal) was able to talk to Belle after the press conference and this is what she had to say of how the partnership came about:
"Before I agreed [to endorse], I checked their products first because ayoko ng kung anu-ano lang ang ine-endorse.
"Siyempre, pangalan mo 'yan, di ba? I agreed because after I tried and tested them, I liked the quality of the bags, the workmanship, and the style."
Having been exposed to fashion at young age (she did her first modeling job for a clothing company when she was still in her teens), Belle has already developed her own sense of style.
Contrary to some people's notion of her that she likes all luxurious things (perhaps because she's a fashion model and she came from a well-off family and they see her in the news attending all these glamorous events), Belle actually is not a fan of expensive fashion goods.
In fact, she finds her latest endorsement a perfect fit for her tipidista* philosophy, especially now that she's living on her own. (CLICK HERE to read related story)
When shopping for bags, Belle always looks beyond the brand name and gets more meticulous on other qualities of the product.
"I'm very particular with designs and the style. I have a certain taste that I like. Pati sa mga products, pinipilian ko talaga bago ko gamitin."
Her bag of choice?
"I like hand and shoulder [bags]. [Yung puwede] both para sa hand and shoulder. Siyempre, pag nagsho-shopping ka, kailangan puwede both."
ADVERTISEMENT - CONTINUE READING BELOW
Now that Isabelle is starting to carve her career path in the entertainment industry, she has definitely gotten busier than ever before and has found the need for a roomier bag so she can bring all her stuff wherever she goes.
She says, "Gusto ko maraming pockets para maraming paglalagyan [ng maliliit na gamit] and malaki [ang space].
"Hindi ko [kaya] yung maliit kasi I have so many things. I have an organizer in my bag."
Belle pertains to her bag organizer—a mini bag to put inside the actual bag that has little compartments that help her keep your stuff in place.
Among them include her daily staples such as, "my cellphone, my red notebook, my checkbook, hand sanitizer and lipstick."
Aside from making it easier for you to find things in your bag, organizers can actually help keep your carriers "healthy."
For one, you don't need to worry about ink pen stains in the event of a leak; the blots go directly to the organizer and not on the bag itself.
Second, it eases the tension on the straps which often snaps because of certain instances like rummaging for your ringing cellphone which, inconveniently, fell at the bottom of your bag.
The push (your one hand scouring the bottom) and pull (the straps clinging on to your other hand so you can dig deeper with the first hand) exercise you do on your bag has the tendency to stretch the straps too far to reach the breaking point.
Third, as your little pointy items (pens, eyebrow razors, etc.) are kept in a safe pocket, they won't be poking a hole through your bag causing a fashion disaster and a possible blow on your budget.
Also, organizers make it easy for you to switch from one bag to another to match your outfit without worrying about leaving an important item in the first bag.
ADVERTISEMENT - CONTINUE READING BELOW
However, Belle prefers her carriers to be in neutral shades like black and brown which could easily go well with any colored outfit.
In the spirit of being a true tipidista, this is her way of making more use of the little stuff she buys rather than hoarding every nice bag she sees in stores only to be stocked inside her closet.
*A tipidista is a fashionista who opts for non-expensive yet stylish items.