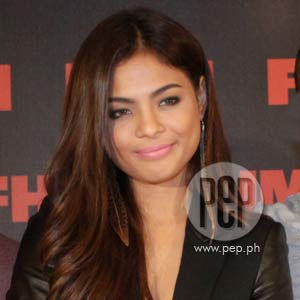 IMAGE 0
---
Many stars have made their debut on FHM, but only one can claim to have done so with a very special cover shot out of the country—Lovi Poe.
"I'm very flattered na kinuha ako to appear on the cover. And especially like this, in Thailand pa," says the September 2011 cover girl.
Editor-in-chief Allan Madrilejos says, "We've always wanted to do a photo shoot out of the country and since the approved concept was the African-like wildlife with elephants, we decided to do it in Thailand."
Sharing the cover space with Lovi is an elephant that's a star in its own right—the trained elephant that appeared in the martial arts movie Ongbak.
"The FHM team has always wanted to have Lovi Poe on the cover. When she finally agreed to be on the cover, we decided to put her on our September issue since it is our special issue," Madrilejos adds, referring to FHM Collections, their annual men's guide to style.
ADVERTISEMENT - CONTINUE READING BELOW
Lovi did not expect that she would ever grace the cover of FHM.
"I was thinking na impossible pa nga itobecause of my parents...baka ayaw nila to see me like this but then I've done so much in my life na. Who am I to pretend I can't do these things?," she said.
Being the daughter of the late Fernando Poe, Jr. may put Lovi under the watchful eyes of showbiz critics, but this does not stop her from letting her true personality show.
"I try not to make this business my work [so] I don't let it stop me from having fun. You can just have fun and do whatever as long as it's clean fun lang," she says, "I hang out with my friends and have a few drinks, so whatever you see, this is how I really am."
Find out what Lovi has to say about being the daughter of the late, great Fernando Poe, Jr. in the September issue of FHM, which also features Derek Ramsay in a flip cover for FHM Collections.
ADVERTISEMENT - CONTINUE READING BELOW