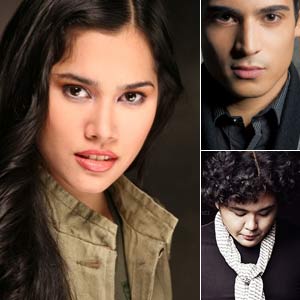 IMAGE 0
---
"It's not about the genre, it's really more about the message," remarks Isabella Gonzalez about the repertoire for tonight's show at the Teatrino, dubbed Got Friday's@Teatrino.
The concert series runs all Fridays starting September up to November this year, and features an eclectic mix of fresh new faces and talents.
Joining Isabella for tonight's gig are Robin Nievera and Kevin Cisco.
Aside from his stint as Myx VJ, Robin is a multi-talented singer, guitarist and composer, and a respected figure in the local alternative rock circuit.
Kevin, on the other hand, is a Fil-Am RnB singer and composer who also happens to be one of Channel V's newly-anointed video jocks.
So, what happens when a jazz singer, alternative rocker, and RnB crooner share centerstage for the very first time?
"Total mayhem!," Isabella screams.
"But seriously, this will be a night of fun and experimentation," she explains. "I'm going to be way out of my genre here, and will be doing everything from Barbra Streisand to Justin Bieber, Cyndi Lauper, Everything But The Girl and even Natasha Bedingfield."
"Robin and I will be doing a Switchfoot duet, so I'll be unleashing my rock side as well," she teases.
For Robin's part, "Admittedly, kicking us out of our comfort zones is definitely a step towards musical growth. So far, I've picked up a thing or two from Iz and Kevin, and for that we have to thank Direk Freddie."
After their initial run, Isabella, Robin, and Kevin will have repeat performances at the Teatrino on October 7 and November 14.