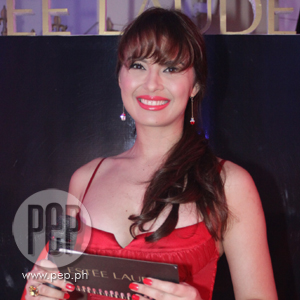 IMAGE 0
---
Priscilla Meirelles was her usual stunning self last night, June 23, at the launch of Estee Lauder's newest lipstick line. The international cosmetics brand has named the 2004 Miss Earth winner one of their beauty icons.
The Brazilian beauty was glowing in her body-hugging red dress that night.
Could it be the so-called "newlywedded bliss?"
"Yeah, married life is good. We're both so blessed with a good and happy and passionate married life," said Priscilla.
She, of course, is married to actor and Happy Yipee Yehey! host John Estrada.
They tied the knot in a ceremony last February 26, 2011 which was featured in an ABS-CBN TV special titled, Te Amo, Mahal.
SIGNS OF PREGNANCY. Almost four months into their marriage, the public is looking forward to baby news from the couple.
Priscilla was quick to answer when asked about their baby plans:
"Wala naman kasi I'm not really planning for it. I believe that God's time is the perfect time."
ADVERTISEMENT - CONTINUE READING BELOW
But is she feeling any signs that maybe she could be in the early stage of pregnancy?
"Sabi ko sa kanya [John] the other day, 'Baby, I'm feeling weird,' gano'n. He got so excited.
"Actually I haven't done the test pa for pregnancy. And I believe that, you know, it's really God's time.
"Kung meron, it's gonna show. Pero ngayon, I don't think so," she said, pointing to her tummy. She added that she hasn't gained any baby weight yet.
How did her husband react when she said she was "feeling weird?"
"Actually sobrang excited si John. Sabi niya, 'Please babe, have yourself checked kasi gusto ko talaga malaman kung meron."
Apparently, John had told the family about their conversation and they all got excited about it as well.
"I was actually telling him [about it] just [jokingly]... parang sweet-sweet lang.
"Tapos sabi ko sa kanya, 'Next time I just don't tell you anything ha kasi nagiging news 'to, e.'"
ADVERTISEMENT - CONTINUE READING BELOW
But if it happens, will they let the public know about the pregnancy or will they keep it secret?
"Kung meron, eventually, I'm pretty sure he wants it," said the former Miss Earth.
"He'll be the first one to know and I'm pretty sure he's gonna tell the family, then my family, and then eventually, everybody will know."
But for the meantime, Priscilla just wants to "enjoy life and I'm also gonna have myself checked.
"Maybe this week, maybe mamaya," she said, chuckling.
Apart from the "weird feeling" she has experienced recently, Priscilla also revealed that she has been feeling extra sleepy and hungry lately.
She hasn't felt any cravings for any particular type of food yet, but she says she's "just generally hungry," eating two to three full meals a day.
About an hour after each meal, she would feel hungry again.
She even shared her excitement when she saw the waiters at the launch bringing in food backstage.
ADVERTISEMENT - CONTINUE READING BELOW
She said she's been feeling sleepy more than usual, noting that she slept over 12 hours one day last week and had a hard time getting up to do her morning activities.
"Hindi ko alam kung psychological pregnancy ito or pregnancy talaga, or maybe [the time of the year] that you just feel weird about yourself.
"We're gonna find out."
GENDER. In case she's pregnant, does she prefer a boy or a girl?
"Para sa akin kahit ano naman basta healthy siya.
"I remember before, I would [make] requests na gusto ko sana babae o sana lalaki.
"The only thing I wish for [now] is that sana healthy siya. Kumpleto, you know, lahat—dalawa kamay, dalawa paa," the Brazilian beauty said with a timid laugh.
She shared, though, that her family members are the ones making bets on her first born.
"My mom wants a girl because she wants her dream beauty queen. She really wants to pamper the girl.
ADVERTISEMENT - CONTINUE READING BELOW
"Si John naman, gusto boy kasi meron na siyang tatlong girls.
"So, sabi ko sa kanila, 'Bahala kayo.' Basta ako kahit ano. I'm happy basta healthy.
MOTHERHOOD With all this baby talk and pressure from her family, is she ready for the challenges of motherhood?
"Definitely," she said.
"Like I said kanina, everything before was fiction. One day I'm gonna get married, have kids.
"Pero I'm over the point already.
"I'm already married and I'm in the proper age to be pregnant and lahat doon, e—stability, financial, emotional.
"So, you know, if God wants to bless my family, me and husband with a kid, we're gonna embrace it very happily."
And if that time comes, how will she prepare herself for pregnancy and giving birth?
"Definitely I'm gonna take extra care with my diet. Gusto ko din sana mag-stay active.
"Kasi when you're pregnant, di ba, there are certain things that you should eat para maging healthy yung baby mo?
ADVERTISEMENT - CONTINUE READING BELOW
"Sigurado ako, I'm gonna get someone to design a menu for me so everything I eat is healthy, so I eat all the vegetables and fruits.
"And then, siguro I'm gonna do activities na good for the pregnancy like yoga, yung gano'n. Very healthy."
How about preparing the baby's nursery?
"I'm pretty sure I'm gonna spend a lot of time buying yung mga gamit for the baby. I'm gonna go crazy with it!
"Siguro I'll just really take care of myself and take the opportunity to abuse my husband — make him do things I want him to do. Patay siya sa akin!" she ended with a laugh.