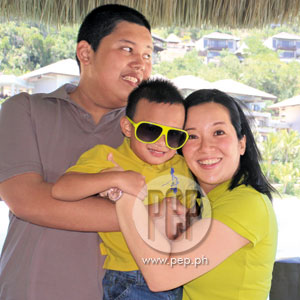 IMAGE 0
---

Two days after the May 10 national elections, Kris Aquino, who had campaigned passionately for her Kuya Noynoy all around the country, packed her bags and brought her sons Joshua and Baby James—or Joshy and Bimby, as she likes calling them—to Boracay island in Aklan province for a much-needed and much-deserved R&R.
On her way there, she told her 214,017 (as of June 8, 2010) followers on the mobile networking site Twitter: "Time for my sons. We're going away on a short beach vacation. Back Saturday for Pilipinas Got Talent. Thank u Philippines for choosing NOY!"
In August, after her commitment to her soap opera Kung Tayo'y Magkakalayo is done, Kris is treating her sons to a three-week Florida Disney vacation. At press time, her only problem was whether to book a hotel within Disneyworld or to stay off-site.
In her May 24 Twitter entry, she tweeted: "Ang mahal to stay w/in Disneyworld. Ang laki ng savings to stay off site. Kaya lang Disney obsessed si Bimby so I'm so torn kung worth it to pay extra to have Mickey & all Playhouse Disney characters surround us 24/7?"
In her May 27 update, she didn't say if she had already come to a decision, but reported that the Disney vacation prepping was final: "OK whole day of Disney vacation finalization, maalaga Pioneer Travel, nag home service sila—we'll go on a Disney cruise to the Bahamas & 1 week in Disneyworld right before Bimby starts school in August—si Joshy absent na lang!"