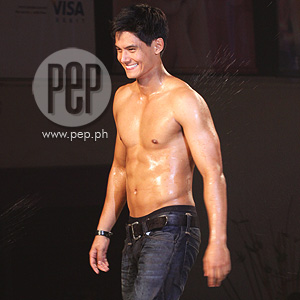 IMAGE 0
---
When Daniel Matsunaga walks on the ramp, ladies really swoon over his well-sculpted physique especially when he goes topless.
It's a compliment for the half-Brazilian, half-Japanese model to see females screaming during fashion shows. For him, it means all the long hours of intensive gym workouts paid off.
In an interview with PEP.ph (Philippine Entertainment Portal) recently, the new face of Wrangler Jeans said it's not easy to achieve and maintain a well-sculpted body.
Aside from his daily two-hour gym workouts, Daniel also engages in several sports like swimming, boxing, Muay Thai, and football, which is his favorite.
"I do a lot of sports not because of my job, but because I love it.
"It's also part of my job. It keeps me motivated," he told PEP.
At the gym, Daniel says it's always better if there's a personal trainer who keeps track of his activities.
He says, however, that if a person can't afford a personal trainer, he or she can always research about proper workouts online.
ADVERTISEMENT - CONTINUE READING BELOW
"Trainer is okay. But there's always the internet," Daniel said.
"You can check You Tube or whatever.
"There's always 10-minute workout, there's always free workout [you can follow].
"They really have to be able to save some time [for workout]."
"YOU ARE WHAT YOU EAT." Of course, physical activities should be balanced with a proper diet.
"You are what you eat," stressed Daniel.
"If you work out, even if you work out for two hours, and you eat three hours of fat, your workout is nothing."
When it comes to food, Daniel has this simple reminder: "I suggest not to eat so much fat, not so much carbohydrates, and not so much sugar. "
In case you overeat, the hunk model-actor's advice best advice is to just sweat it out.
"Of course, it's really important if you workout," he said.