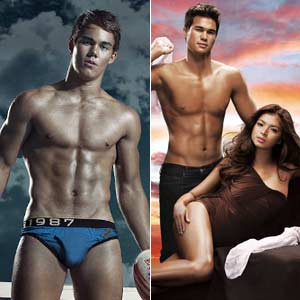 IMAGE 0
---
There goes another, and another, and another.
Less than a week after the national rugby team Philippine Volcanoes' "Men in Briefs" billboard ad for Bench was pulled down, that of Century Tuna's ad featuring the hale bodies of real-life couple Phil Younghusband and Angel Locsin followed on Monday, July 11.
The dislodging of the latter was due to the MMDA's campaign called Operation Roll Down, Baby, which caught the billboard sans the necessary permit.
The MMDA billboard project kicked off last May and knocked down other billboards—by ad agencies including United Neon, Bigboard, Okachi Neon—due to the alleged lack of permits and setback violations.
Meanwhile, the Philippine Volcanoes ad's rolling down eleven days after it was installed (June 26), was upon the request of Mandaluyong City Mayor Benhur Abalos (CLICK HERE to read related story).
Apparently, it was Valenzuela City Mayor Sherwin Gatchalian who tapped his fellow official to eradicate the sight of bodacious men in underwear.
ADVERTISEMENT - CONTINUE READING BELOW
To both leaders, the "sexy" images were inappropriately placed in the bustling E. delos Santos Avanue (EDSA) where children, most of all, pass by.
CENSORSHIP AND PERMITS. But who really is in charge of screening the billboards? What or whose standards of decency and lawfulness are the ad agencies supposed to follow?
PEP.ph (Philippine Entertainment Portal) heard from Summit Billboards, a department of Summit Publishing Co. Inc. responsible for the installation of the Philippine Volcanoes' billboard along EDSA Guadalupe.
They stated that upon the authority's call, they yielded at once to the tearing down of the images despite the approval of the Advertising Standards Council (ASC), an organization that sees to the "lawfulness" and "decency" of billboards.
Asked how other ad agencies get in trouble due to the absence of permits, Summit Billboard intimated that there lies a misunderstanding regarding the permit/s.
There are apparently several permits that an advertising agency has to obtain before putting up a billboard, which government agencies and organizations such as the Department of Public Works and Highways (DPWH) and the ASC are tasked to evaluate.
ADVERTISEMENT - CONTINUE READING BELOW
Also, the problem arises when considering the size of the billboards.
In "Talakayan With Igan," a segment in GMA Network's morning show Unang Hirit, ASC's legal counsel Atty. Rejjie Jularbal remarked, "Maraming structure na oversized. Magbibigay nga ng permit for a certain size, tapos mag-e-extend sila, at talagang nagkakaro'n tayo ng problema diyan."
Jularbal, when asked if the ASC will discuss the content regulation of the billboards with the MMDA and the local government, answered, "Kung sa structure, e, nagkakaunawaan na kami. Sa content, e, yun siguro yung magkakaiba kami ng approach, kasi ang Ad Standards Council, free screening ito."
Another predicament comes in for the advertising agencies when putting up a different tarpaulin each time.
Manila Bulletin reported on July 11 that Tolentino called on them to secure a permit for every building that they put up.
"What happens is that they get building and business permits but they change tarpaulins every two weeks. And when they do that, they no longer get a permit so we don't get to screen the contents of the new advertisements," he explained.
ADVERTISEMENT - CONTINUE READING BELOW
The same news item reported Tolentino stating the need for a team up of officials and local government agencies to come up with a unified standard for billboards.
"There should be an expanded form of regulation... let's include the government, the consumers' group, the religious sector and the advertising industry to filter [billboard content] without necessarily controlling or restraining or prohibiting the advertisers from endorsing a particular product.
"We just need to regulate the exhibit [or] graphic display of sexuality or nudity [which is] offensive to public morals," he said.