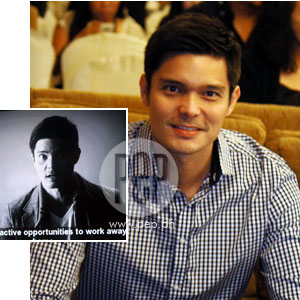 IMAGE 0
---
A staunch advocate of youth-oriented causes, Dingdong Dantes has another good reason to take some time off from his very hectic showbiz schedule.
Recently chosen as celebrity ambassador to MTV EXIT (End Exploitation and Trafficking)— an international multimedia initiative to raise awareness of and intensify the battle against human trafficking and exploitation— the actor is dedicated to involve himself in as much action as he can to forward the cause.
His first task was to host Enslaved: An MTV EXIT Special, the half-hour documentary that is the third in a 12-part series that MTV produced in Asia.
Set to premiere in the Philippines on November 27 on GMA News TV Channel at 9:55 PM, the said documentary deals with the atrocious experiences of abuse and exploitation of four human trafficking survivors in the Philippines.
"As a member of the entertainment industry may I become helpful in this campaign by enlightening those Filipinos who are not yet aware of what is happening," stated Dingdong in his speech during the MTV EXIT's formal announcement of its return to the country.
ADVERTISEMENT - CONTINUE READING BELOW
MTV EXIT began as a United Kingdom-based charity in 2004 and reached out to Asia in 2007.
The campaign held a concert in Manila, Cebu, and Davao in 2009 to increase efforts of educating Filipinos about illegal trade and human labor.
"I am sure that with the power of music, television, and multimedia per se, [MTV EXIT] can help control, if not completely eliminate these practices," imparts Dingdong.
"With MTV EXIT's powerful communication platforms, I am confident that many Filipinos, especially the youth, will be better armed to better defend themselves against these vultures through the empowering strength of education towards cultural and social awareness."
At the launch of the campaign, the actor spoke alongside honorable representatives from the Australian and United States Aid, and Justice Secretary Leila de Lima who is currently the Chair of the Inter-Agency Council Against Trafficking (IACAT).
Recent studies inform that "there are more slaves in the world today than at any other point in history." The United Nation estimates about 2.5 million traffic victims all over the globe with a majority of which coming from Asia and the Pacific.
ADVERTISEMENT - CONTINUE READING BELOW
In the Philippines, the trafficking of human beings is instigated by poverty as offenders of law exploit the most vulnerable in society- women, children, the poor, most of all, the least educated.
KNOWING IS HALF THE BATTLE. Dingdong expresses that while working on the documentary was educational, filming Enslaved empowered him to face difficult realities and enlightened him about the harsh experiences of the survivors.
"It slowly dawned on me how serious this can affect us all," says the actor.
"Sinasabi nila na human trafficking is really for the poor and siguro we know that [the victims are] mostly women and children pero... it is also rampant in men.
"It can really happen to anyone... it's really an abuse of human rights in all forms."
While the task at hand is not easy, Dingdong feels fortunate to be part of the campaign.
"Sobrang malaking challenge," he remarks.
"I've always been an advocate of education and youth empowerment... How will you empower the youth if you will not educate them?"
ADVERTISEMENT - CONTINUE READING BELOW
Dingdong strongly believes that the youth play a critical role in society. "Sila yung active sa social media... Sila yung magiging guards natin sa lahat. It's time to educate them and to make them aware of what is really happening in terms of human trafficking."
His function as an ambassador of MTV EXIT does not stop in hosting Enslaved. Dingdong plans to go around schools to distribute copies of the documentary and personally inform students and their teachers of the battle against human trafficking.
"I would personally distribute it sa lahat ng mga interested. Kahit hindi sila interested, papapanoorin namin sa kanila yun!
"Knowing is half the battle," he firmly states.
The actor is set to make an appearance at the MTV EXIT Live—a free outdoor concert which will feature local artists Parokya ni Edgar, Pupil, Ebe Dancel, and Itchyworms—on October 29 at the Mall of Asia concert grounds.
ADVERTISEMENT - CONTINUE READING BELOW