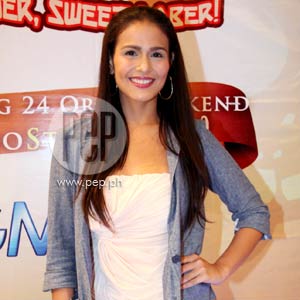 IMAGE 0
---
Playing the role of Matilde on the weekly Andres de Saya sitcom on GMA-7 has Iza Calzado looking at a familiar face for some inspiration—namely, her mom, albeit in jest.


"Sometimes when I do a scene, I'd think 'Sobra ito, I would never be like this.' Pero it's funny onscreen kasi.
"Everytime I have to do a tarayan scene, iniisip ko, 'hindi normal ito,' napapailing ako. So, iniisip ko na bawal ito dalhin sa bahay, bawal maging ganito."


It's not hard though for this prime leading actress to play such a domineering character like Matilde because of the platform it's played out on—a comedy show.
"Hindi naman eto drama. Pero kung drama ito, I'll have to be more serious all the time. It definitely doesn't come naturally.
"E, I don't treat anyone that way. Sometimes lang, I get a little bit bossy."


The closest Iza comes to being like Matilde is when she gets mad, but with the character, Iza explains, "It's her habit na kasi, her normal self."
ADVERTISEMENT - CONTINUE READING BELOW
For Iza, "When I get mad, siguro I get a little emotional but definitely not that style [Matilde]."


MOTHER ROLES. Her roles in shows like Joaquin Bordado, where she played a mom, helped prepare her in a way for this current role.
"I've played a housewife several times, pero dito, wala pa kaming anak. This one, it really revolves around the mag-asawa and then..."


She does admit to not wanting to be typecast yet in such a role, "Kasi hindi pa naman ako housewife."


Does Iza see herself one day becoming a real housewife then?
She grins and remarks, "It depends! If the guy can actually lock me down! Joke lang!
"Housewife is still work, there's nothing like just a pure housewife."


Is her special someone now the guy she sees in that scenario?
Iza muses and says that what she sees is "partnership."
But she says, "Pero kasi I'm not yet in that phase of my life na I see myself walking down an aisle, it's not really...
ADVERTISEMENT - CONTINUE READING BELOW


"Actually noon pa, I would wonder, 'Bakit kaya they would feature me and ask me what my dream wedding is?' And I could not for the life of me come up with an answer."


She smilingly remarks, "Some women, you'd be surprised, wala pang boyfriend pero detalyado na yung wedding nila!"


IZA'S BOYFRIEND. Iza and businessman-musician Atticus King been together for some years now, and the ever elegant actress quietly demurs from revealing when they'll settle down.
"Partnership is what I see for long-term but not yet the idea of marriage... partnership we both believe in. Oprah's not married and she's with a handsome man!" Iza exclaims, referring to popular talk show host Oprah Winfrey.


What she does share is that her guy "brings out a lot of good things in me."
She adds, "Maybe a lot of discipline too, and together we create a lot of good balance.
ADVERTISEMENT - CONTINUE READING BELOW
"He's very smart. And he's my opposite in a lot of things.
"But then we get along in a lot of things, like losing weight, being fit and healthy.
"I find a lot of things in him that are very endearing," she proudly remarks.


She's always been fond of musicians, the Penny Lane complex as she calls it, perhaps "it's the rhythm of my heart and soul," she says.


COMEDY VS. DRAMA. Iza has steadily been working in comedy more and more at this stage in her career.
She says, "Because I'd been doing drama for such a long time I didn't get an avenue where I could be more playful, which I am naman in real life."


Even though Andres de Saya started airing after I ♥ You Pare, the former project came to Iza's plate first.
She unexpectedly took on the role when Regine Velasquez left the nightly primetime comedy show because of her pregnancy.
ADVERTISEMENT - CONTINUE READING BELOW


Right now, she says, "Di ko alam, di ko pa sure" about doing more comedy after Andres de Saya.
"I would love to do a really good drama again, of course!"
What she'd also like to do more of is hosting.


"I'd really love to have my own talk show, hopefully lifestyle, na inspirational.
"Talking to other people, getting to know them, more positive stuff, not so much the gossip.
"I understand also though that anything related to gossip sells, it rates, even our news has it!
"Pero if you're smart, you have to be open even to that part of it."


So who inspires this latest Preview cover model in her chosen craft of
acting?
"When I work with people and I see their dedication and commitment and passion.
"A good script can inspire and compel me as well. And Meryl Streep always does the trick!"
TWITTER WORLD. Iza, one of GMA7's primetime treasures, says that she's really humbled and happy with the response that Andres de Saya is getting from people.
ADVERTISEMENT - CONTINUE READING BELOW
"From Twitter alone I'm getting so much positive feedback and it was totally unexpected from my part na, people would greet me and appreciate it so much."


She continues, "It's family-oriented and people just get a kick out of seeing the whole macho image being put under a strong woman personality.
"I guess they just like the whole premise of the show to begin with."


Iza sees the continuing domination of social networking sites as both good and bad, as with all things.
"With Twitter, you can plug things... And it's so easy to ask a question and you get an answer. It's like an open dialogue between you, an individual, and another individual.
"Of course you also get the negative on Twitter or on Facebook or whatever blogs kasi you give people the freedom to say whatever they want.
"You can't expect people to always choose to do good things or always try to be polite.
ADVERTISEMENT - CONTINUE READING BELOW


"Twitter is very, very powerful and if used in the right way, it can be very helpful."
Right now, Iza is in the United States doing a ten-day show for Pinoy TV with stops in New York, New Jersey, Virginia, and more.
She's also in talks with GMA management for some more projects towards
the end of the year; however she can't disclose any of these yet.