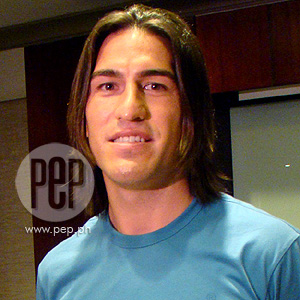 IMAGE 0
---
Philippine Azkals newbie striker Angel Guirado has no plans of joining show business.
The Filipino-Spanish football player, who joined the Philippine Azkals earlier this year, does not see himself becoming a showbiz personality in the country unlike other athletes.
"Right now his main goal is to play football," said Angel's interpreter Rafael Garcia during the media junket prepared for the 26-year-old Azkal member by his representative PR Asia Worldwide yesterday, July 11, at Dusit Thani Hotel in Makati City.
Angel speaks neither English nor Tagalog.
Rafael Garcia, who also manages the football career of Angel in the Philippines, added, "[Angel] wants to focus right now in football. And the focus now of football [team] is for the Philippines to reach the coming qualifications for the World Cup."
However, Angel's manager said that the football player is open to product endorsements.
"What's important for him is an endorsement or sponsorship as an athlete. I think whatever comes, he's open," Rafael said.
ADVERTISEMENT - CONTINUE READING BELOW
Angel instantly made an impression in his first appearance as an Azkal member after scoring two goals for the team, which settled the match against Myanmar to a draw during the Asian Foootball Confederation Challenge Cup earlier this year.
Then, he gained more fans after contributing another goal in the recent game of Azkals against Sri Lanka, which is a qualifying match for the World Cup in 2014.
PLAYING FOR A NATIONAL TEAM. Angel said it was a dream come true for him to be playing for a national team like the Philippine Azkals.
"All football players, one of their dreams is to always play for the national team," he said in Spanish.
Rafael added, "[Angel] also says that any child who plays football... for him who plays football as a child, of course, he wants to play for a national team—be it Spain or Philippines."
This is one of the reasons why Angel wishes to stay in the Philippines for a while before pursuing a career abroad.
ADVERTISEMENT - CONTINUE READING BELOW
Rafael said, "His plan right now is to stay here first. But, of course, his priority will still be football.
"He may play in the Philippines or outside the Philippines. So, we're just waiting actually."
OPEN TO OTHER FOOTBALL CLUBS. Like other football players, Angel does not deny that he is also open to play for other footbal clubs.
Rafael said, "Countries like Indonesia, Japan, United Arab Emirates, China, those are the countries that are looking at him right now.
"There are offers for him to play here in Manila.
"Pero for other countries, there are other countries taking a look at him right now.
"So, the game in Kuwait will be vital for his football career here in the Philippines."
BRUISED AND INJURED. Speaking of the game against Kuwait, Angel is hoping that his injuries will be healed before the first leg of the match on July 23.
"As a striker, [my] first priority right now is to heal from injuries," said Angel when asked what would be his plans for the game.
ADVERTISEMENT - CONTINUE READING BELOW
Then, his manager told the media, "He wants to heal and be 100 percent against Kuwait.
"He has a bruised thigh and knee problem.
"He's been playing with those problems against Sri Lanka.
"Of course, him being the striker, he plays like how he plays. He really attacks and go for goals."
As of now, the 6'3" footballer still has no idea what the team plans for the second qualifying game.
However, Rafael said, "For the defensive game, of course, he would entrust the coach.
"As of now, there's no plan with regard to the strategy of the team because the coach will be identifying all the plans once we reach Bahrain.
"Also there are two players who are not playing, two defensive players so that will be another thing."
The Philippine Team Azkals will leave the country for Bahrain on Thursday, July 14, for a one-week training.
Then they will go straight to Kuwait where the first leg of their match against Kuwait Al Azraq will be held.
ADVERTISEMENT - CONTINUE READING BELOW