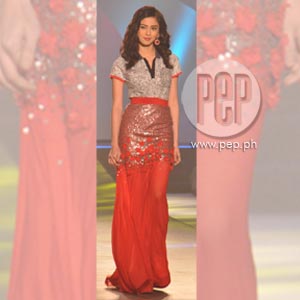 IMAGE 0
---
Thanks to the many brave celebrity fashionistas who dared to sport sheer dresses in recent events—i.e. the Esquire ball (CLICK HERE to view related post)—retail fashion has now come to carry on the trend to reach the average Janes out there and look like stars in their own right.
As seen in the runways of Bench at their Philippine Fashion Week showcase, which started October 23 at the SMX Convention center, the see-through skirt is one of the most notable items in their upcoming Summer 2012 collection.
Of course, when we say summer, resort wear always comes to top of mind. And what better way to cover yourself up than in a chic tulle skirt much like the pieces worn by sexy models Regine Angeles and Georgina Wilson.
Regine's style—black skirt worn over a floral print two-piece underwear with a striped knit cardigan—is more for daytime use. Perfect for eating lunch by the shore.
For her part, Georgina's high-fashion ensemble, complete with accessories such as belt and a gold choker, can be worn to beach club parties at night.
Other stars who modeled various incarnations of the sheer skirt also demonstrated how the delicate piece can be worn in many different ways.
Kim Chiu graced the ramp wearing a subtle red skirt with silver embellishments. The piece looks very glamorous as is and can be worn in semi-formal to formal occasions, depending on the accessories.
Angelica Panganiban was also seen in sheer—a white lace maxi skirt paired with a casual T-shirt. This look would be great to wear practically anywhere!
Also, teens will surely adore the skirts worn by Kapamilya stars Jessy Mendiola and Melai Cantiveros.
Jessy's look is more of punk rock. And for every girl who is in touch with her "dark side" or is, perhaps, aspiring to be a rock star, the black lace skirt worn by the Budoy leading lady is definitely a good choice.
ADVERTISEMENT - CONTINUE READING BELOW
Melai, on the other hand, wears a fresh white organza skirt with a cream satin mini skirt detail. The contrast of long and short in this particular piece gives off that "I'm not a girl, not yet a woman" vibe.
Meanwhile, showbiz newbie Janine Gutierrez wears a classic full skirt with polka dot print.
If you're into the retro '50s and '60s look, or you're simply a conservative girl who refuses to look like a "manang," this skirt definitely deserves a space in your closet.
To view the photos of the celebrities featured in this article, CLICK HERE and CLICK HERE.