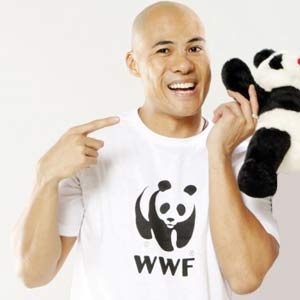 IMAGE 0
---
Rovilson Fernandez is no stranger to healthy work-out routines.
He notes that all his advocacies including the environment (health, wellness and education about nutrition) target the youth. "It's very youth-oriented."
He works out two to three times a week given his hectic schedule. He mixes running and cross-fit, making sure to have both every time he works out. He explains the reason, "If you keep doing the same thing, the muscle memory will... and you'll eventually get bored."
So what's cross-fit and why does he mix it with running?
According to Rovilson, cross-fit is "a high-cardio, very intense work-out for 30 minutes, that's it. There's no stopping, you're doing stuff: push-ups, kettle bells, mixing things up for 30 minutes... sweating your butt off!"
He jokes that with this, "you won't ever be siomai," localizing the popular Pillsbury Dough Boy image from the States or the Michelin mascot.
Has he always been thin? Or was he ever the fat kid? Rovilson smugly says, "I always wear tight shirts, that's my secret! I shop in Baby Gap...as long as they're XL! I just revealed my secret!"
ADVERTISEMENT - CONTINUE READING BELOW
So the real story is that growing up, Rovilson, whose family lived across the street from his high school, had the access to exercise even then. He was so into sports that he would play basketball after school and on weekends.
He shares that present day him is "the fattest I've ever been because I'm so busy. So even though working out and trying to be healthy and fit is part of my life and what I do, this is still probably the heaviest that I've ever been."
There is one item that really tops the list when it comes to his advocacies: health and wellness. Rovilson explains why, "Hosting Game Plan while Marc was hosting Sports Unlimited, the top two sports shows in the country for a very long time, and we were very honored in spreading sports to people out there."
He believes their early placement as sports advocates helps him promote another sport that he loves: running.
ADVERTISEMENT - CONTINUE READING BELOW
Running in the Philippines is currently experiencing a boom in terms of followers. He says, with a straight face, "I have gotten more people into running than politics and bears, and there's a quote there somewhere. That is what makes me most happy!"
It's one of his greatest joys to see people running the races every Sunday and people who he's taught and gotten into running.
"They're so into it now and some of them have surpassed me! I love it."
He exclaims, upon this reporter noting that teachers are usually eclipsed by their students, "Let them, I want them to surpass me all they want!"
He recalls how they were part of a program that taught nutrition and nutrition education. This is something close to his heart as heart disease is one of the top killer of Pinoy males.
It doesn't mean he doesn't occasionally indulge in anything that has a hint of fat on it (especially if it's lechon!) as long as "everything in moderation...or lechon from another country...calories overseas, calories don't count!"
ADVERTISEMENT - CONTINUE READING BELOW
His rule of thumb with food is this: "Plain and simple, if I can't pronounce it, I won't eat it. You have to learn have to read labels."
To him, what matters is not just knowing how to read labels, but understanding what each component stands for on that label. "The more naked your food, the better: no dressings, no preservatives."
He eats a lot of wheat pasta, because it's more complex, burns better and fuels your system longer and better. Rice, as long as it's colored is okay too he says.
"There are carbs in everything you eat anyway, so just do a balanced diet. I like to do what they call the pyramid: heavy breakfast, lunch, then taper off for dinner time."
Rovilson, Renaissance man that he is, can actually cook, too. "My Italian sausage pasta would open restaurants and have franchises!," he proudly declares. "It's phenomenal!"
So if that is his favorite to cook, what's his favorite when eating out or in? "Japanese food, you can't ever go wrong."
ADVERTISEMENT - CONTINUE READING BELOW
He shares how he recently had a deconstructed sushi-with the raw fish on top.
He does reveal one more secret, "I'm a big junk food fan! Try Soyami, that's my new thing. The only soy chips available in the country."
He seriously loves anything with soy in it, and in closing, he says with a smile, "I have so much estrogen running through my body I'm probably gonna give birth in a couple of months."