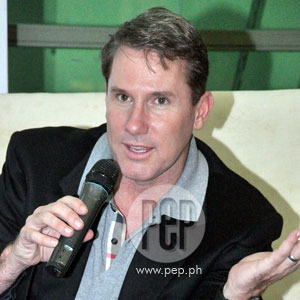 IMAGE 0
---
Nicholas Sparks' first visit to the Philippines coincides with the release of his latest book, The Best of Me.
The best-selling author's books have sold 65,000 copies in 2010 alone, says Xandra Ramos-Padilla, National Book Store's merchandising director for books.
This is a very special trip for him, as the Philippines is the only Asian country in his itinerary.
And late last month, he had a special press conference at the C3 Events Place, Greenhills, where he answered over 20 questions!
First, he talked excitedly about the synopsis of The Best of Me, which he described as "the story of two people who met and fell in love in high school."
Nicholas added, "Their lives diverged after, and 24 years later they are reunited. So, it's really like The Notebook except that it's also a story about the choices we make and the consequences. So many things changed in 24 years, so will the feelings they had for each other last?"
What was it like writing The Best of Me?
"It was one of the hardest and challenging novels, along with The Guardian, without question the most challenging novels I've ever written," he shared wistfully.
He finished the book by his set schedule, May 2011. His editor told him it was great but he'd have to rewrite the ending.
It took him a month to do the revisions, but his editor once again asked him to rewrite about 1/3 of the novel. This time, he had to restructure some plot points to make sure the changes flowed together. He says, "It wasn't so much that the story changed, just the way things were told."
When he wrote The Best of Me, did he write with someone living and real in mind?
"This was interesting... I can't tell you who it is," he said. "When I had the bones of this story, I went to Warner Bros. in Burbank, California, and I sold this story to the studio, because they had wanted a story for a particular actor.
ADVERTISEMENT - CONTINUE READING BELOW
"So I wrote this story with [him] in mind, writing so that this actor may be in the movie or he could not be in the movie...
"I wrote the story so that it would appeal to the actor but also to the studio to give them a lot of freedom in it..."

The Best of Me, like many of his novels, tackles love and one or several of its many aspects.
He elaborated, "It's about love and choices. Love and the decisions we make. The consequences we live with. I think that's really common as you get a little bit older, in your 40s...It's sometimes hard to figure out how I got here... maybe [life] is not everything I imagined it to be. Or maybe it is."
He narrated how Amanda—the character who's been married for 20 years, with 3 kids— realized she's in an unhappy marriage and faced with the return of an old flame from 24 years ago.
Nicholas said, "What would she do in this situation? She's still young enough to have time to spend with the true love of her life. But she's also got a family. She has to think, can I do this to my children? She is going to make tough decisions that I think are going to be real to a lot of people."
At press time, The Best of Me will start production by August 2012. Other films in production or post-production include The Lucky One, starring Zac Efron and slated for release in April 2012, and Safe Haven which starts filming in March 2012.
Does Nicholas believe in true love?
For a man who wrote The Notebook and A Walk To Remember, his answer sounded a bit skeptical."No," he quickly said.
The American novelist continued, "But I do think falling truly in love is rare. It's rare. If you can find it once in a lifetime, you're lucky. A lot of people never find it.
ADVERTISEMENT - CONTINUE READING BELOW
"When you're young, there's a lot of passion there. So much hope and the belief that anything can happen still.
"As you get a little older, you get... yeah... so you get passion tempered by the reality.
"I do believe in true love. I do believe that there are those who can love and if they lost someone, they can find another true love. So I don't know if there is only one per person. There are so many people in the world. How would you ever be able to find it?"
Does he have any favorites among his now 17 novels, especially the ones that have been made into a movie?
"I don't really have a favorite," he confessed. "I will say though that of the ones made into a movie, and which will be remembered for a long, long time is The Notebook."
He said that in the United States it's already considered a classic. "It's on television nearly every other week... People like that movie," he said, before adding that even his son's girlfriend over the summer liked it.
"I'm just fortunate that a lot of them have been made into good films."
Does Nicholas ever cry while he's writing any of his books?
"Not too much," he admitted.
While he reads, perhaps?
"Not so much," he repeated. "There were a couple that made me tear up: A Walk to Remember, The Rescue, certainly Three Weeks with My Brother. Parts of At First Sight. It's rare."
All the more, the movie versions do not move him much because, "I know the story too well. By the time I see the movie, you have to realize that I've read the script a 100 times, I've made changes, I've seen it being filmed. By the time I watch it, I'm so close to it, it's really hard to see the story like someone else would see it."
ADVERTISEMENT - CONTINUE READING BELOW
Now that The Best of Me is out in the market, can Nicholas already reveal who are playing the lead parts? Did the actor that he initially write it for get the part?
"What's interesting is this, casting is the last decision," he stressed. "Except in the case of Message in a Bottle, where Kevin Costner got attached to the work. Normally, the first step is to get a screenwriter then a director because the director can have a lot of input in the auditions and who he wants in each role."
Since the studio bought the story already, he wanted to give them the chance to choose which aspect of The Best of Me to focus on: the young love part or the part when the two lovers are reunited.
"In The Notebook, the young love story was like three pages, in the film they changed that. I wanted to give Warner Bros. that same choice, whether to go young or go to the reunion. To this point, I don't know which way they are going to go. At this point, they are leaning towards the young."
The Best of Me is available in National Book Store, Bestsellers and Powerbooks nationwide.