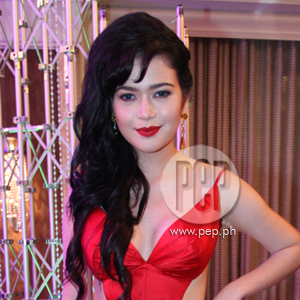 IMAGE 0
---
Christmas is just around the corner and Kapuso actress Bela Padilla is setting her sights for the season.
Not for any of the festive feasts and holiday traditions that we Filipinos normally practice, but for something else that's extra special to her heart.
"Actually, I don't celebrate Christmas," she revealed to PEP.ph (Philippine Entertainment Portal) when we met her at the red carpet of the GMA Artist Center Ball last November 8.
"But usually the family gets together, like the entire clan; we all go out of town."
It has been the tradition of the Padillas to get together and spend time with everyone in the family—to relax, unwind, and bond just like any regular bunch.
"Like before, we went to Vigan. Like the entire clan with sila Kylie, sila Tito Robin, my aunts, and my Lola," says Bela who still remembers their last trip together in Ilocos Sur.
Despite their showbiz lineage, it's only her uncle Robin, her cousins Kylie and Queenie, and herself who have been active in showbiz lately.
And despite their showbiz affairs, their annual road trips afford them their much-needed private time— away from the glare of the klieg lights, their hectic schedules and the hordes of screaming, starstruck fans.
"It's super fun kasi I think that's the only time where we can just have fun and be ourselves.
"We're just wearing normal clothes, we get to do normal stuff, and I see that, you know, like Tito Robin, he gets to rest.
"It's a nice moment, very quiet.
"Even if we're having fun, parang even if we're being noisy and we're having parties, it seems like a super quiet moment for us.
"So I'm looking forward to it."
So far, Bela doesn't know the exact details yet about their family gather for this year.
ADVERTISEMENT - CONTINUE READING BELOW
But she certainly is excited about many things, including spending time with her new aunt, Mariel Rodriguez, who happens to be her friend from way back.
Mariel's former handler in Backroom Inc., Jet Valle, was the one who discovered Bela when she was on a field trip in ABS-CBN.
She took interest in show business and Star Magic's head honcho Johnny "Mr. M" Manahan took her under his wing and was known by her screen name Krista Valle.
Now, apart from reuniting with Mariel, Bela is also excited to bond with her cousins again this Christmas.
She says, "My closest cousin so far is Ate Aggy, she is the daughter of Tito Robin's sister, but she's in the States so I don' think I'm gonna get to spend the holidays with her.
"Ate Aggy is the most fun to be with, but actually all of my cousins naman are like me, parang happy go lucky.
"So, actually, medyo same kami lahat ng attitude so I'm looking forward to being with them again," she concludes.