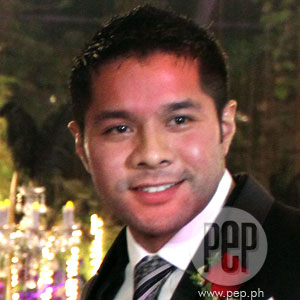 IMAGE 0
---
Victor Aliwalas, born and raised in the U.S., has been working as an actor in the Philippines for nearly four years now.
When asked what he considers the best thing about living here, he says, "My girlfriend [and] my career."
His girlfriend is Liz Almoro, former wife of Willie Revillame.
While working as an actor, he has made a lot of business connections and has joined a publishing company.
"Sarap ng buhay dito...Masaya talaga dito. I've been able to get in touch with my roots, I've learned Tagalog and [got re-acquainted] with our culture," he says.
Victor finished two stints on Spooky Nights airing on GMA-7. He's also a regular cast member of the afternoon drama series Ikaw Lang ang Mamahalin, a remake of the 2001 primetime TV series.
He plays best friend and business partner to Gardo Versoza's character, who plays dad to tween star Joyce Ching.
"There are a lot of twists in my character, I will have a love affair with somebody close to Gardo...Yun. Conflict," he says.
After four years in the industry, does Victor still get star-struck?
"Actually, di naman. Everyone I've met has been super bait and down-to-earth. Parang wala lang, everybody is just cool," he says.
BEST ADVICE. What is the best advice he learned in the biz?
"Try to be as natural as possible. Huwag masyado maarte."
His dream role on TV or the big screen?
"Gusto ko talaga action," says the hunky actor. "My dream role, I've already accomplished. I had a really nice fight scene with Robin Padilla, a really cool boxing scene in Totoy Bato."
"There are a lot of veteran actors I would like to work with. My pinaka-goal ko was action. I've done a [lot of] heavy drama kasi."
Having spent his formative years in the States, Victor admits not being able to speak Tagalog fluently has prevented him from landing bigger roles.
ADVERTISEMENT - CONTINUE READING BELOW
"So, my only choice is to pursue [a career] in Hollywood or do a movie in English. That way I can really reach my full potential."
BUSINESS BACKGROUND. Victor finished finance and marketing in college and has worked for a financial services company and mortgage banking groups before he joined show business.
So the guy looks good and seems to have a good head on his shoulders.
"Sana nga," he quips.
Has he considered doing theater?
"Siyempre, kung may time ako, I would never turn my back on an opportunity.
"If may offer, tingnan natin, we will have to evaluate. Right now, I'm fully immersed in Ikaw Lang ang Mamahalin."
Asked what keeps him going, he says, "My motivation right now is to finish what I've started.
"Yung contract ko sa GMA, hanggang 2013. Whatever I start, I'll fulfill. So, go with the flow and tingnan natin what the future holds. I'll do my best and whatever I can to improve in my craft."