Kris TV continues the celebration of its second anniversary this week with a five-episode feature on Singapore.
On June 18, at a press conference held by the Singapore Tourism Board (STB) at the Holiday Inn & Suites in Makati, Kris Aquino showed some of the cool items she scored during the Great Singapore Sale.
The Great Singapore Sale runs from May 30 to July 28 this year, and Kris was indeed lucky to be there in time to shop for items that are not readily available in Philippine stores.
DIANE VON FURSTENBERG DRESS. During the press conference, Kris wore a wrap dress in a fun, geometric print.
She said that the dress was among her favorite purchases from her recent trip to the "merlion city."
"This is my favorite brand, which is not available here. It's Diane Von Furstenberg and it was 40 percent off, kaya… heaven!"
There are currently two DVF boutiques in Singapore. One is located in the Takashimaya Department Store along Orchard Road, and the other is in the ION Orchard shopping mall located in Orchard Turn.
CHANEL. To go with her fashion purchase, Kris also bought a bottle of perfume from international brand Chanel.
"Kasi, di ba, we still don't have Chanel? And in the Chanel boutique they have special fragrances that you can only buy within the boutiques.
"So, that's what I actually bought… Gardenia scent.
"We don't have this, e, and you can't buy it normally sa Duty Free. So, iyon lang, there, that was the last thing na ikinaaliw ko talaga.
"Kasi there, we had dinner in Mozza, in Marina Bay Sands [Hotel]. Iyong friend of mine— who owns Prestige [Brands], the fragrances here and then distributes it in Singapore, Malaysia, Thailand, and Philippines— so he treated us.
"And then, in Marina Bay Sands kasi, the stores are open until 11:00 PM, so after dinner puwede ka pang mag-shop-shop doon. Ang saya."
BOOKS. A known bookworm, Kris also bought herself some new reads.
"I love travel books and this is Lonely Planet Special Collector's Edition na bago.
"Noong nakita ko 'to sa bookstore, sabi ko talaga, 'Oh, my God, kahit mabigat bibilhin ko talaga.'"
Kris said she only got one copy each of the Paris, New York, and London volumes "kasi ito lang iyong available," but actually, that is the whole set.
According to the website booksellers.co.nz, the three books were released just this month for Australasian distribution "as Lonely Planet wants to deliver something creative and different for bookshops to offer customers."
Perhaps it's safe to say, then, that Kris is one of the first owners of these books.
A boxed set of the three books is set to come out in October.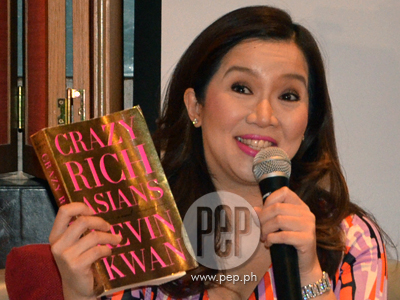 Meanwhile, Kris also bought another book, which she said she finished reading in only two nights.
"I finished this book over the weekend… it's so good, basahin niyo."
The book is called Crazy Rich Asians by Kevin Kwan.
"It will really enlighten you about the culture of the super-duper rich Chinese in Singapore and Hong Kong.
"It's highly-rated, ha. Even sa iTunes, nandoon na siya sa recommended and it's one of the top sellers.
"I read it over two nights… It's super good! As in talagang amusing, entertaining, and talagang gives you an excellent perspective talaga of a different culture."
Crazy Rich Asians by Kevin Kwan is also available in some bookstores here in the Philippines, but Kris purchased her copy from the Kinokuniya Bookstore.
Kinokuniya has four branches in Takashimaya Orchard Road, Liang Court, Bugis Junction, and Jurong Gateway Road.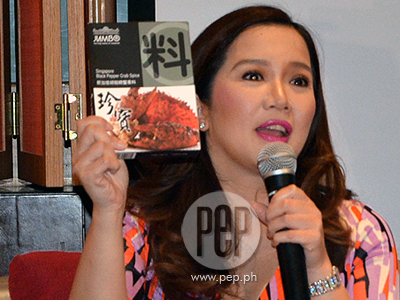 BLACK PEPPER CRAB SPICE. Kris didn't pass the chance to buy something for her kitchen, of course, so she took home several boxes of Singapore Black Pepper Crab Spice from the Jumbo Seafood restaurant in The Riverwalk.
"This is my favorite. More than their chili crab, it's really the black pepper crab that I love," says Kris.
In one episode of Kris TV, viewers get to see a cooking demo, done by a Singaporean local, on how to cook the famous Singapore black pepper crab and chili crab recipes.
Kris also said that she became particularly fond of the Hainanese Chicken Rice in Singapore.
"It's really different. No matter how masarap na iyong dito, iba iyong kanila. I don't know why.
"Maybe in the same way na if you eat it here, everyone will say na our pancit is different. If you eat adobo here, it is different… There, it was really different, and I preferred the roasted more than the steamed."
Kris admired how Singapore's street food culture is thriving and exciting.
She hopes that one day the Philippines can adopt Singaporean discipline when it comes to cleanliness and hygiene, so that our markets and street-food industry may also be uplifted.