IMAGE Rizza C. Benedicto
---
Unlike other celebrity couples, TV host Robi Domingo and volleyball star Gretchen Ho choose to keep their relationship status open to everyone.
Gretchen revealed, however, that she's a very private person, "Very private person kasi ako talaga.
"Pero siguro alam na rin kasi ng mga tao, so we're open; but we also keep some things private.
"We don't want kasi ng intriga, so we're just being true to ourselves."
Robi added, "I think we're open in the sense that we don't want people not to know about it; at the same time, we don't disclose so much information.
"Kasi we have to have that for ourselves pa din. Kasi if we give everything away, wala kaming relationship, our relationship is with everyone else not within ourselves.
"I think yun lang, status is open but the stories inside, that's between us na lang.
"Ako, I can personally say na I don't want to say much information on what's happening between the two of us, I just want to become really private."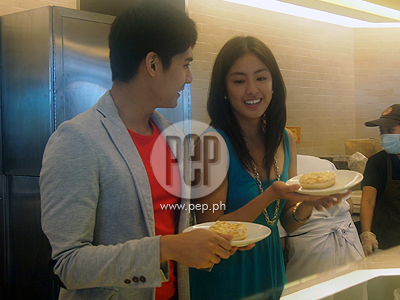 FINDING TIME FOR EACH OTHER. Both Robi and Gretchen are now busy doing hosting jobs.
Robi is a segment host for The Voice of the Philippines on ABS-CBN, while Gretchen recently teamed up with veteran sportscasters Boom Gonzales and Mia Cabalfin in Gameday Weekend on Studio 23 and Balls Channel.
With their hectic work schedule, how do they find time to catch up?
Robi answered, "Video chatting is one way. Texting, updating, yun lang naman, e.
"She just updates me about her whereabouts. I really don't mind who's her company basta I just have to know where you are and what you're doing."
GODDESS GIRLFRIEND. Gretchen came to fame as the star player of the Ateneo Blue Eagles' Women's Volleyball Team.
ADVERTISEMENT - CONTINUE READING BELOW
She has countless fans—teenage girls and male admirers. How does it feel for Robi to have a sports star girlfriend?
"I'm really happy about it! She's like the goddess of volleyball. You know what I am saying?
"When you talk about volleyball, you don't think about the ball, you think about the person, so I am really happy about her status."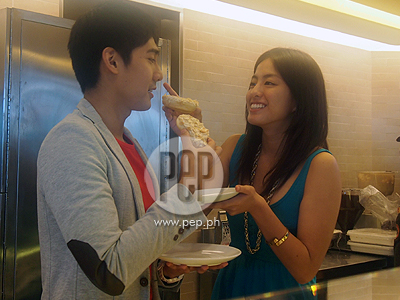 SWEET NOTHINGS. At four months, their relationship is obviously still in the "getting to know you" stage, still discovering each other's traits.
Gretchen finds that among the things they share in common is their passion for food, particularly sweets.
"Sweet things we share together is probably eating.
"Simple joys such as giving sweets and knowing each other's favorite food and being happy with those simple gestures, I think yun yung sweet things na sine-share namin."
Meanwhile, Robi finds it quite romantic to know that he and Gretchen are becoming more open to one another, especially in talking about their flaws and revealing their emotions.
"Our feelings, I guess, kasi medyo sagad na yung mga I love you's and I care about you stuff.
"At this point, siguro the sweetest thing we have shared together is our flaws.
"Di ba, the flaws kasi, if we'll really think about it, they're just there and if the person considers you together with the flaws, it's something else.
"You're going beyond what the normal eye sees and what the initial feeling is, so if you have that feeling, if you accept everything—the totality of the person—then it can go a long, long way."
Robi's passion for Gretchen is both romantic and down to earth.
"What's interesting about her is that I'm like having a daughter and a girlfriend at the same time.
ADVERTISEMENT - CONTINUE READING BELOW
"It's just fun to see sometimes you get to the point na, 'Kasi athletic, achiever, sobrang tigas ng ulo talaga, sobra talaga.'
"And then I find it fun when she learns from her mistake, that's when the parenting comes in.
"Parang, 'Okay, I am your boyfriend, at the same time I am your father.'
"And then throughout every single day we learn from each other. She learns from me and I've been learning a lot from her."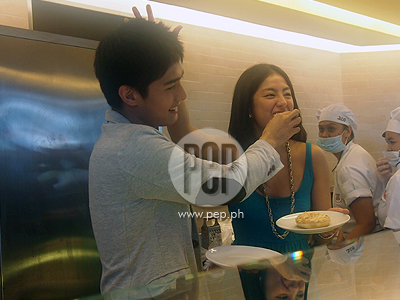 COMPETITIVE COUPLE. The two admitted that they have brought in their competitiveness in their relationship. They love challenging one another in basketball, running, debates, and more.
Gretchen says, "Yes, super competitive! Siguro kasi, ano, being my athlete self, siya din being an achiever siguro, ano, we challenge each other."
But who is more competitive?
Robi answered, "I think pareho kami. We will never ever put our pride on the line.
"It's a fun thing to have for couples kasi parang sasabihin mo, it's not just you versus yourself in the relationship, it's you versus the other person you care about."
Robi made it clear that their competitiveness is something healthy, which makes their relationship stronger.
"And it's a nice and healthy relationship naman. Hindi naman, like, 'Okay, she has something that I don't, I feel bad about it.'
"No, no! it's like, 'Okay, I'll run 10K, kaya mo ba 'to?'
"For example we play basketball, kailangan bantayan talaga, ganun! Ganun kami mag-away.
"We even debate about every single thing. We lay down our facts...everything! Even about Ateneo's losing right now, about the government, about the SONA. We talk about everything."
A FAMILY THING. Is Robi a jealous boyfriend?
"May borderline na ganun, kasi siyempre you have to be on guard din.
ADVERTISEMENT - CONTINUE READING BELOW
"Be on your guard, and at the same time you have to let her experience all the stuff that she needs to go through in order for her to grow," says Robi.
How is their relationship with each other's parents?
"My parents, okay naman sila," says Robi.
"Unlike before pag nagde-date date ako, medyo bantay iyan. May curfew, 10 o'clock pm dapat nasa bahay na ako.
"My mom and dad text her all the time. Her parents update me of her whereabouts. It's a very, very good, open relationship even with our families."
PURSUING CAREERS. For TV hosting newbie Gretchen, how is she adjusting to her new role as a TV host?
"I thought it would be an easy transition. Kasi I am kind of used to having the camera, kasi nga when we play the volleyball there's camera.
"But apparently, it's different when you are talking to the camera and engaging with it.
"It's new for me but I think it's also a learning point for me and it's a chance to learn how to talk, how to speak, and how to really communicate with your audience; so I am really growing in terms of pursuing this hosting career."
Meanwhile, Robi is also still open about pursuing his dream of becoming a doctor.
"I'm done with my college. With med stuff, it is still there.
"I can honestly and frankly tell you that it's still there.
"I am yearning to get those books, I am yearning to get those hours and not get those sleeps. I am excited and anxious to go back to studying.
"But for now I feel like I am not yet done with the good things that are coming my way.
"If I feel like it's over, then I will go back to studying."
ADVERTISEMENT - CONTINUE READING BELOW