Kiray Celis was discovered in 2000 at the age of four in the "Munting Miss U" segment of the noontime show MTB: Magandang Tanghali Bayan.
The show ran from 1998 to 2005.
Kiray at that age was cute and witty, as Ryzza Mae Dizon is now. Little girls who capture the hearts of the public.
But while little Kiray was a source of fun and laughter, she would also be teased for being tiny and dark-skinned.
She was cute, but not in the typical sense.
In the children's gag show Goin Bulilit, she was typecast for the "ugly" roles.
There was nothing malicious about the "ugly" label directed at her, but it stuck.
Kiray is now 18, a young lady by any standard. But many people still see her as that funny little girl in that noontime show.
At the recent Star Magic Ball, she was said to be the object of ridicule for allegedly being one of the event's worst-dressed.
FANNY SERRANO'S TOUCH. Enter a fairy godmother bent on putting a stop to all insults.
Fanny Serrano has stepped in to lend his magic touch to the beleaguered young star.
He and Kiray had never met before.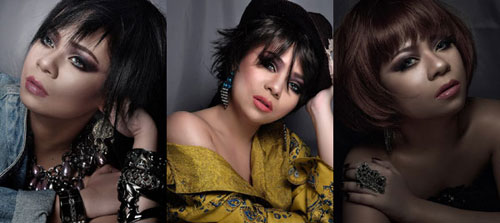 On his Facebook account, Fanny narrated details of Kiray's makeover:
"EFFORT! I got to truly exert effort in discovering the flaws of Kiray's facial features...and it's ONLY her droopy chinky eyes.
"It's my first time to see Kiray in person on that memorable day of our fotoshoot, though super fan nya naman ako sa lahat ng mga bata sa Kulit Bulilit for only one reason—kakaiba ang beauty nya sa lahat!
"Why KIRAY CELIS?...When i saw her fotos at the Star Magic Ball at nabasa ang mga panglalait sa image nya on that event as one of the worst dressed stars, i got hurt…
"Kahit hindi kami magkakilala ng personal, i told myself that sobra namang mamintas ang mga tao...personalan na talaga!
"Aaminin ko na NA-BWISIT AKO SA MGA LAITERONG PINTASERONG nag-comment kay Kiray.

"So what i did the next day, i called my kumareng Gina Marissa Tagasa to ask contact numbers of Kiray Celis at dumating naman sa akin ang kanyang personal #. And i texted her kung pwede ko syang tawagan.
"Nagkausap kami and i felt her unbelievable voice at sobrang excitement when i told that i needed her for a glamorous fashion shoot in one full day.
"No problem naman sya, so sked kami ng Sept 20, Friday, 9 am - 5 pm. GO!

"At my makeup chair...i exert effort of erasing Kiray's droopy eyes with my classic smokey eye makeup, contoured her nose, her cheekbones and jawline...
"After im done with her smokey eye makeup, that's when i realized that i got a WINNING MYSTICAL KIRAY ALBUM for my future BEAUTY BOOK."
Fanny Serrano gave photographer Mj Suayan a free hand during the shoot.
His only instruction to the photographer was "to shoot all Kiray's angles para makapili kami ng OK lang na shot.
"NO grabeng photoshopping please!!!...and told him not to photoshop Kiray's nose and just look for an angle na medyo makadaya naman kami kahit kaunti lang. Hehehe...
"And if you will notice, i styled Kiray's hair that will cover the real shape of her face and gave it an additional deceiving look, especially the image with a very straight hair...
"And i requested MJ to transform Kiray's skintone into a porcelain texture."
The celebrated makeup artist also expressed his admiration for the young actress.
"For Kiray Celis effort naman...super ang concentration nya to elongate her neck and stretching her face forward to show her jawline…
"And i taught her the model's bite to emphasize her chin and the model's movement to play with MJ's lens...and THAT'S IT THE ICONIC PHOTOSHOOT OF THE LADY KIRAY!
"Sa totoo lang, i am very very much impressed with Kiray's talent as an actress...
"SHE IS A VERY GOOD LISTENER TO BE ABLE TO DELIVER ALL THE ANGST OF THE CHARACTERS I DEMANDED FROM HER DURING THE SHOOT!
"SHE IS AN INTELLIGENT ACTRESS AND I AM SOOO PROUD THAT I DID HER VERY VERY FIRST FASHION SHOOT!
"SALAMAT SOOO MUCH...LADY KIRAY! I LOVE YOU, MY NEW MUSE!"